Share facilities for tax breaks, private schools advised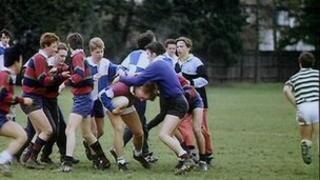 Private schools could merit charitable status if they let state pupils use their facilities, say new draft rules.
Allowing state pupils to attend lessons or seconding teachers to their schools could also count, a Charity Commission consultation says.
The consultation follows a court ruling in favour of a claim by some private schools that said the existing guidelines were too narrow.
The commission said it was consulting on a complete review of the guidelines.
Fee-paying schools can claim charitable status and the resulting tax breaks if they can prove benefit to the public.
Public benefit
The new document sets out what charities in England and Wales, including schools, must do to show they are acting in the public benefit.
The Independent Schools Council (ISC) said the original guidance from the Charity Commission was overly focused on bursaries and did not take into account all the charitable work done by private schools.
The ISC, which represents 1,200 schools, between them educating half a million children, took the case to the Upper Tribunal.
The judges ruled parts of the guidance were "erroneous" and ordered the guidance on how schools justify their charitable status be "corrected".
The revised guidance contains new information on charities, including schools that charge fees and a list of "illustrative examples" on how they could show public benefit.
The examples include offering bursaries or assisted places, collaborating with state schools and sponsoring academies.
Other options are allowing state schools to use facilities such as swimming pools, sports halls, playing fields and concert halls, allowing state pupils to attend classes or educational events, seconding teachers to state schools and colleges and working with non-fee-charging schools abroad.
The Charity Commission said the document was part of a complete review of the guidance and not just a response to the judgement.
It added the three-month consultation also included other changes made in response to the 2010 Equality Act and the 2011 Charities Act.
Dame Suzi Leather, chair of the Charity Commission, said: "Public benefit is the defining characteristic of charity but is a far from simple concept.
"We have worked hard to write guidance that accurately reflects the law but is accessible for a charity trustee who just wants to know what to think about when making decisions that might affect their charity's public benefit."
The document is published online, which the commission hopes will make it easier for charities to access the guidance.