Willetts warns universities over foreign student grades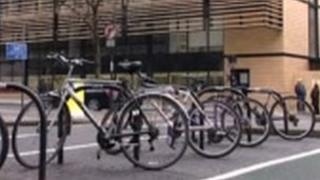 Universities Minister David Willetts has warned universities not to sacrifice standards in the hunt for foreign students and the fees they pay.
It follows reports in the Daily Telegraph newspaper that students from China are being offered places at UK universities with lower grades than home students.
Mr Willetts said home students were not being displaced by those from overseas.
UK universities say they are recruiting the maximum number of students allowed.
This cap on home students is set by the UK government - but students from outside the EU, who self-fund, are recruited separately and can be charged an unlimited fee.
'Salutary'
Mr Willetts' comments come after Telegraph reporters filmed staff at an agency in China saying it could help a student get into certain UK universities with three C or B grades at A-level.
This is below the entry requirement for most leading UK institutions.
Universities mentioned in the report say they are investigating the reports, but insist they aim to recruit the brightest students and that agents are not empowered to make offers on their behalf.
Writing in the Telegraph after Wednesday's report, Mr Willetts described the allegations as "salutary".
He said: "If our world-class institutions admit people who cannot cope or who slow down their fellow students, their league table positions will slip.
"This is in no-one's interest."
But he warned against drawing false conclusions from the investigations that home students were being displaced as a result.
Academic ability
He said: "International students have been a useful source of income for universities but the benefits are not just financial.
"They give campuses a window to the world and that benefits all students.
"There is no cap on the number of genuine overseas students, but it is reasonable to expect universities to recruit them in ways that protect our world-class higher education sector."
These sentiments were reflected by Nicola Dandridge, chief executive of Universities UK, who said recruitment of international students operated "entirely outside these domestic limits".
Universities UK also said the institutions set entry requirements for courses, but these could be relaxed in certain circumstances - for both home and overseas students - for example, if a student showed potential to succeed on the course.
"Recruiting students without the academic ability to complete the course is not in universities' interests as it risks compromising their reputation, causes significant additional work in terms of supporting potentially poorly performing students," Ms Dandridge added.