Exam board says pupils given wrong grades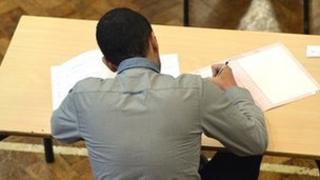 More than 250 pupils are to have their exam results changed by up to two grades - as an exam board says it has found mistakes in the adding up of the totals of papers and units of exams.
The OCR exam board has been contacting 180 schools this week about grade changes at A-level, AS-level and GCSE.
Mistakes were made in adding up the sub-totals of marks in the exams taken in summer 2011.
The exam board says that four examiners have had their contracts terminated.
Another 78 examiners have been told to "improve their performance".
It remains uncertain whether any university applications were affected by the incorrect grades.
'Disappointed'
OCR's chief executive, Mark Dawe, said: "I am disappointed to have to confirm a number of grade changes as a result of the discovery of clerical errors made last year.
"Mistakes were made by examiners in the transcribing and totalling of marks," he said.
The exam board says that grades awarded in 15 A-levels, 28 AS-levels and 34 GCSE short courses will now be changed - mostly raising them by one grade.
But there are five candidates who are to have their exam results improved by two grades.
There are another 137 cases in which parts of exams taken last year are to have their grades increased - with this being taken into account for the final grades to be awarded for qualifications later this summer.
At A-level, the mistakes were in subjects including PE, history and psychology.
For AS-level, grade changes were in subjects including religious studies, law, performing arts, history and music.
At GCSE, errors were in religious studies, history, English, Spanish and Turkish.
The schools affected appear to be predominantly in England.
The exam board says the mistakes have emerged after a full investigation of last year's papers - and that measures are now in place to prevent such errors.
Exam boards came under scrutiny last summer after a series of errors were found in papers, such as multiple-choice questions where all the answers were incorrect.
But the exam season of summer 2012 seems to have passed without any major problems.