Male trainee primary teacher numbers on increase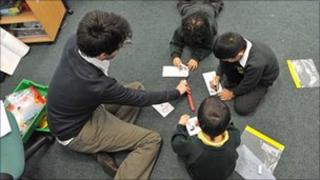 The number of men training to become a primary school teacher has increased by more than 50% in England in the last four years, figures suggest.
The Teaching Agency said men starting a career in primary teaching was growing at five times the rate of women.
There were 3,743 male trainee primary teachers in 2011-12 compared to 2,476 in 2008-9, the agency reported.
Interim chief executive Lin Hinnigan said primary teaching was becoming a more attractive option as a career.
'Classroom life'
She said: "Primary teaching is increasingly a career for the most able graduates. It offers the opportunity to earn a good salary and progress quickly."
The agency said teachers were twice as likely to be in management positions after three-and-a-half years than graduates in comparable professions.
It is seeking to put successful male teachers in contact with people thinking about a career in teaching so they can find out more about the job.
Ms Hinnigan said: "Our aim in joining forces with talented male teachers from primary schools across England is to show the reality of life in a classroom and why there's never been a better time to join the profession."
Last year figures from the General Teaching Council (GTC) showed that one in four primary schools in England still had no male registered teacher.
Education Secretary Michael Gove said at the time that more male teachers were needed but they were put off by worries that teacher-pupil contact was a "legal minefield".
The Teaching Agency replaced the GTC as an executive agency of the Department for Education in April, responsible for the awarding of qualified teacher status.