GCSEs: Double joy for two sets of twins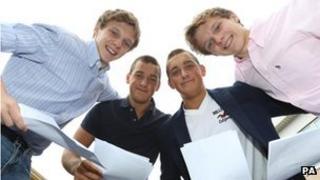 There was double joy for two sets of identical twins when they picked up their GCSE results from the same school.
Teachers at St Cuthbert's Catholic High School, Newcastle, have struggled to tell apart Liam and Fraser Wright, and Luke and Nicholas Jarvis-Smith.
The twins achieved similar, but not identical, results in their GCSEs.
Meanwhile, two boys at another school were among only four in England to gain full marks in further maths GCSE.
Raymond Ding and Jamie Horton, of Manchester Grammar School, were shocked to discover they scored 175 out of 175.
'Brilliant lads'
Jamie, 16, from Didsbury, said: "I can't believe it. I would never have expected that at all. It's pretty crazy."
Newcastle twin Nicholas gained an A*, six As and three Bs, while his brother, Luke, got an A*, an A and eight Bs.
Liam achieved two As, seven Bs and a C while Fraser got an A, seven Bs and two Cs.
Head of year Lee Ferris said: "All four are absolutely brilliant lads. The biggest problem is telling them apart.
"It has taken me three years to be able to tell them apart. Today is the first time I managed it.
"They have worked really hard, and their results reflect it."
'Good friends'
All four will go on to study A-levels in the school's sixth form.
Luke, 16, from Walker, Newcastle, said afterwards: "Playing football or on the computer, it's me against him. But we get along considering we are with each other 24/7."
Nicholas said: "We are good friends."
Liam, 16, from Chapel House, liked the experience of being a twin at school, saying: "You always have someone to speak to."
Fraser added: "You always have someone to fall back on."