Heads call for regrading of English GCSEs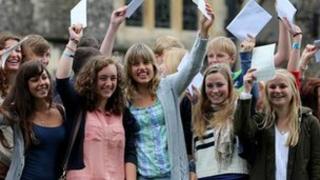 Head teachers are pressing for this summer's English GCSEs to be regraded amid a row over grade boundaries.
The Association of School and College Leaders (ASCL) estimates more than 10,000 teenagers in England and Wales received worse results than merited.
ASCL met with senior staff at the exams watchdog for England, Ofqual, on Tuesday as part of an investigation into the marking of the exams.
Hundreds of thousands of teenagers received their results last Thursday.
The results - in England, Wales and Northern Ireland - showed a fall in the proportion of GCSEs awarded an A*-C grade across all subjects , for the first time since the exams were introduced 24 years ago.
Investigation
But results for English GCSEs caused particular concern, with teachers saying pupils had been marked too harshly and too few had achieved an expected C grade.
Some said pupils who would have got a C if they had sat their GCSE in January, only got a D in June - for exactly the same work, prompting accusations of grade boundaries being deliberately raised.
As a result, Ofqual is meeting with exam boards and unions this week to "look closely" at the concerns raised.
Speaking to the BBC after his meeting with the watchdog, Brian Lightman, general secretary of ASCL, said the issue was not re-marking papers, but altering grade boundaries and "putting right what's happened".
"We want to see justice done for those young people who were unfairly were marked down on their results.
"This means reissuing grades to all pupils based on the January grade boundaries."
Mr Lightman said his union had received 800 responses to its survey and 87% of these had reported problems with English GCSE results.
He said more than 10,000 young people in England and Wales appeared to have been affected.
"Our advice to young people whose results have fallen below their expectations is not to make hasty decisions, but to talk to their teachers and careers advisers who will discuss the options available to them," he added.
'Injustice'
Meanwhile, the National Union of Teachers (NUT) says an independent review should establish how many pupils who were on course for a C grade got a D.
The NUT said "the injustice" should be "put right" by exams being regraded, not re-marked.
Kevin Courtney, deputy general secretary, said: "This speculation that education is now increasingly a political football is extremely corrosive to teachers trust in the government's handling of the education system.
"We welcome the fact that Ofqual has recognised that there are serious concerns over this years GCSEs and are looking into the situation.
"This however is just not good enough. Teachers and pupils trust in the system is so knocked what is needed is an entirely independent review."
In GCSE English, 63.9% of entries got at least a grade C, compared with 65.4% last summer. Some 15% were awarded an A or A*, down from 16.8% in 2011.
In English literature, 76.3% of exams were awarded A*-C, compared with 78.4% last year, and 23.2% got at least an A, against 25% in 2011.