University rich-poor divide 'narrows'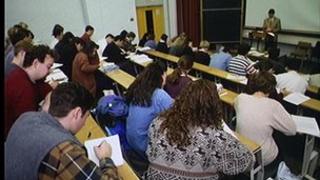 The gap in numbers of people from the richest and poorest sections of society going to university in England has narrowed, a think tank says.
A study from the Institute for Fiscal Studies says the gap dropped from 40 percentage points to 37 points in the five years to 2010.
The group says much of this happened after tuition fees were increased in 2006.
It also says a new scholarship fund for poor students is too complicated.
As a group, people from the poorest fifth of the population are much less likely to go to university than those from the richest groups.
Report author Claire Crawford says only 12% of poorer 18-19-year-olds went to university in 2004-05, but that rose to just under 18% in 2009-10.
Among the richest group, 52% went to university in 2004-05 and 55% did so five years later.
Over the same time period, the proportion of state-school teenagers going to university rose from just under 30% to 34%.
Complex
Claire Crawford said: "University participation rates have been rising over time, more quickly for students from the poorest backgrounds. Whilst there was a small dip in participation following the increase in tuition fees in 2006-07, this was only temporary.
"This experience provides some hope that the drop in university applications observed this year - following the most recent increase in tuition fees - may not herald the start of a longer-term fall in participation rates."
A separate IFS study of the new National Scholarship Programme (NSP) introduced in England this year said the provisions were complicated - "considerably more complex than they were before" - with "substantial variation in the type and amount of financial support on offer".
The scheme involves a total of £50m of government funding plus matched funding from universities, aimed at providing a package of support to poorer students, made up of tuition-fee waivers, cash bursaries and campus discounts.
It was brought in this year, with the raising of tuition fees in England from just over £3,000 a year up to a maximum of £9,000.
The report says some scholarship schemes are based on parental income, while others are based on where people live, on academic ability or on a range of factors.
One of the authors, Haroon Chowdry, said: "Of particular concern is the fact that it is often very difficult for a student to work out how much total support they might receive before they apply.
"This complexity and lack of transparency raises questions about whether the programme will encourage participation among students from poor families."
A spokeswoman for the Department for Business, Innovation and Skills said: "The NSP will double in value next year and help even more students from disadvantaged backgrounds.
"We are always open to hearing how this programme can be improved to make sure that it is targeted at those who need it most, which is exactly why we have reconvened the expert group to make sure we are doing just that.
"Getting to university depends on ability, not ability to pay - and our reforms have ensured that this is now the case. Applications from students from poorer backgrounds held up last year and the National Scholarship Programme is there to support thousands of those students during their time in higher education.
Early days
A separate report also published on Thursday says it is too early to judge whether the changes to higher education in England have discouraged students from going to university.
The study, by the Higher Education Policy Institute (Hepi), says there is no evidence at present that people are being put off.
Bahram Bekhradnia from Hepi said: "Undoubtedly there has been a short-term impact as some students brought forward their applications to avoid the fee increase, as there was in 2005-06.
"But the patterns observed are consistent with a return to longer-term trends in 2013."