Therapy 'could cut teen drinking', researchers say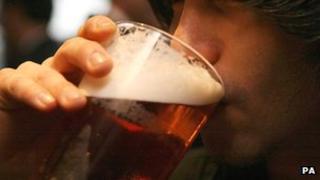 Teenagers at risk of becoming binge-drinkers have been helped by mental health therapy, researchers say.
A study carried out in 21 London schools targeted young people believed to be at risk of emotional or behavioural problems.
Some were given training in psychological strategies to help them cope with their feelings.
Two years later, they were less likely to drink or binge-drink than high-risk students who had not had the therapy.
The study was led by Patricia Conrod, of King's College London's Institute of Psychiatry, with the University of Montreal and Sainte-Justine University Hospital Center in Canada.
It was commissioned by the charity Action on Addiction and looked at the personalities and drinking behaviour of just over 2,500 pupils aged 13 and 14 and then monitored their drinking over two years.
Thrill-seekers
The students were classed as being at high or low risk of becoming dependent on alcohol in the future.
High-risk students were classed as those with certain personality traits, including having anxiety problems or "low" moods, as well as others judged to be impulsive or thrill-seekers.
Eleven of the schools were selected to run workshops designed to help about 700 teenagers seen as at high risk.
Staff in each of these schools were trained to help the teenagers find psychological strategies to manage their feelings and impulses.
The researchers said after two years, high-risk students in those schools were 29% less likely to drink compared with high-risk students at the schools where the therapy had not been provided, and 43% less likely to binge drink.
And there seemed to be a benefit for other young people in the schools where the workshops had been run, the researchers argue.
Dr Conrod said: "Not only does the intervention have a significant effect on the teenagers most at risk of developing problematic drinking behaviour, there was also a significant positive effect on those who did not receive the intervention, but who attended schools where interventions were delivered to high-risk students.
"This 'herd effect' is very important... as it suggests that the benefits of mental health interventions on drinking behaviour also extend to the general population, possibly by reducing the number of drinking occasions young people are exposed to in early adolescence."
The research is published in the journal Jama Psychiatry.
According to the charity Action on Addiction, about six in 10 people aged 11-15 in England say they drink, and in the UK, about 5,000 teenagers are admitted to hospital every year for alcohol-related reasons.