Schools celebrate league table success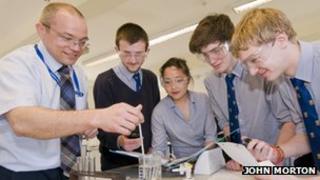 Every one of the 117 pupils entered for GCSEs at Colyton Grammar School in Devon got at least five good grades including English and maths, achieving the best results for GCSEs in England.
This is a particularly strong result as pupils at Colyton do all their exams a year early, at the end of Year 10.
"We are very pleased", said head teacher, Paul Evans, adding that it had been "a challenging year for schools".
Mr Evans said that Colyton's overall results were actually slightly down on last year's when it came fourth in the GCSE table - but he said this just showed that this year results had been "depressed across the board".
In particular he said that there had been fewer A* grades. He commented that the school had experienced "an increasing discomfort with the quality of assessment" and had been forced to challenge the exam boards and ask for remarks, particularly in modern languages.
Mr Evans was keen to emphasise that Colyton, whilst being a selective school, does not have the most challenging entrance exam. It takes around a third of the candidates who apply to start in Year 7.
"If I'm honest the most able children in any school will do well. The real challenge is to make the next tier down do well too, and that's what I am particularly proud of here.
"I have staff prepared to go the extra mile and make sure the pupils do well without over pressurising them."
The advantage of taking GCSEs in Y10 is that pupils at Colyton spend three years in the sixth form. Most come out with four A-levels, plus general studies and critical thinking. He said the three year sixth form enabled them to deliver a "very much broader curriculum, we are not just delivering the specification".
"We are very conscious about not being an exam factory. By the time they leave the sixth form we have encouraged them to become very individual learners. They are encouraged to read around their subjects and very much to go off at tangents".
'Most improved'
Three hours drive away, another school was celebrating a different kind of league table success.
Bad weather meant morning assembly was cancelled at Trinity High School and Sixth Form Centre in Redditch. Pupils went straight into lessons or, in the case of the current Year 11s, a science exam.
So head teacher Marian Barton, had not yet had a chance to tell pupils of their success in achieving the most improved GCSE results in England.
"We are absolutely thrilled, very excited - and I am sure the pupils will be really proud and delighted when they find out", Ms Barton told BBC News.
Some 80% of pupils who took GCSEs in 2012 achieved the benchmark five A* to C grades, including English and maths, up from 32% in 2009.
Ms Barton said she was particularly pleased with last year's results because of when they first arrived in the school, only 55% that year group had been predicted to achieve good GCSE grades.
The school prides itself on being very open and not at all selective. Some 20% of the intake are on free school meals, an indicator of poverty often linked with poor academic performance, and 20% do not speak English at home.
Last year almost two thirds of free school meals children at Trinity High achieved five good grades at GCSE, outperforming the national average for all children.
Ms Barton puts the improvement in grades down to "hard work" and an improvement in teaching.
Trinity was formed in 2001 after a reorganisation of local schools. Ms Barton describes the first few years as "rocky". In 2008 the school was included in the then Labour government's national challenge programme for poorly performing schools, which delivered extra funding but also threatened with closure if they failed to improve.
It became an academy in 2011. Since then Ms Barton says she has focussed funding on hiring highly qualified teachers and on extra support for pupils who struggle with English and maths, including one to one tuition for those in danger of falling behind.
Ms Barton says she is confident that next year's GCSE candidates will do as well: "We know we can maintain this improvement".