Ofsted: Missing children data 'worrying'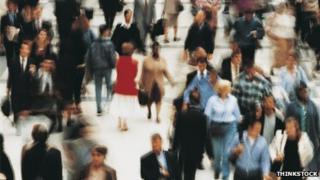 There is a "worrying" lack of reliable data on missing children in England, Ofsted's chief inspector Sir Michael Wilshaw has said.
Research by Ofsted - which inspects children's services - found there was "little or no reliable data on missing children".
Sir Michael says there is an "urgent" need to set up a single register to track missing children accurately.
Ofsted's report was based on checks on 10 local authorities.
Inspectors looked at how well children at risk of running away or going missing were being safeguarded.
About two-thirds of the tens of thousands of people who are reported missing in a year are children, but Ofsted says the lack of reliable data suggests the true scale of the problem is not understood.
A report by the Children's Society in 2011 said only a small proportion of children who run away each year are reported to the police.
Vulnerable
Ofsted inspectors found "significant differences" between reports of missing children made by the police and by local authorities.
Concern about poor data on runaways and vulnerable children has risen in the light of recent court cases about the sexual exploitation and abuse of children by gangs.
Sir Michael said: "We all have a duty to ensure children are safe and protected. The recent shocking cases of child sexual exploitation in Rochdale, Rotherham and other parts of the country highlight just how vulnerable children can be when they go missing.
"Our report today makes clear the urgent need for agencies to have access to a single, accurate and comprehensive register so they can properly track children who go missing and understand any trends or patterns."
Ofsted says inspectors found some good examples of various agencies working together and that information was generally shared well when children went missing.
But it said there was little evidence that councils were interviewing children when they returned, as they were meant to, to check they were safe and well.
A spokeswoman for the Department for Education said: "Protecting children from harm is of paramount importance. This week we set out plans to collect data on all children in care who go missing so we have the tools to address the root cause of the problem.
"We are sharpening the statutory guidance on missing children and runaways and changing the rules to share the location of children's homes with police - helping them to act faster when children run away."
The official added that local authorities should fulfil their legal responsibilities to keep all children safe.
The Local Government Association says councils have been calling for better sharing and use of of data between organisations involved in protecting missing children.
A spokesman said councils were working with the police and central government to get a clearer idea of the numbers of children going missing and to find better ways of identifying and helping children at risk of running away.
"There is no one-size-fits-all approach to addressing the many and complex reasons why children run away, but as champions for young people councils will continue to do everything possible to ensure our most vulnerable children know that there are people who can help them and services that they can turn to," he said.