School caterers 'confident' about meat supplies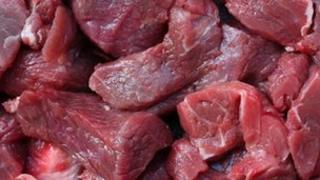 The body which represents many school caterers in the UK says it is confident about the meat served in school lunches despite the horsemeat scare.
It says there are "strict guidelines" on food safety, including the tracing of ingredients.
The Food Standards Agency has told British food producers and retailers to test their processed beef products for horsemeat by the end of next week.
It follows the discovery of horsemeat in some foods meant to contain beef.
Food and farming minister David Heath says, until the tests are complete, he cannot rule out the possibility that horsemeat is being served in schools and hospitals.
'Negligible risk'
But the Local Authority Caterers Association (Laca) said a survey it carried out last week after the first horsemeat scare showed no links between school caterers and suppliers involved in the food scare.
A spokeswoman said the group was "as certain as anyone could be" that school caterers in its group had not received supplies from the companies involved.
"We are probably 99.9% sure that none of these products have entered the school supply chain," she said.
"I am sure that children's food is still safe and parents should be reassured. The risk is negligible."
She said there were strict guidelines over the quality of school food and that contracts in the sector required that food supplies were traceable.
"We are concerned, as are the general public. We take our guidance from the Food Standards Agency and government bodies and rely on them to protect food provision, " she said.
"School caterers are customers in the food industry."
According to the School Food Trust, recent tightening of regulations over nutritional standards in England has meant that schools are less likely to use processed meat.
Cheaper meat supplies
The GMB union has called for all hospitals, schools and council care services including meals-on-wheels to verify that horsemeat has not been served.
Brian Strutton from the union said: "With ever-tightening budgets, some of these may have turned to cheaper meat supplies and inadvertently been or still be using horsemeat.
"With rising public alarm over the prevalent use of horsemeat in retail food products and possible health issues, the government must require all public services that feed vulnerable members of society to verify that they have not used horsemeat."
The Department for Education said schools and councils were responsible for their food contracts.
A spokesman said: "We expect all schools to ensure they have rigorous procurement procedures in place.
"If headteachers have any concerns, they should contact their caterers or local authority immediately."
The controversy surrounding contamination of meat products has affected firms in the UK, the Irish Republic, Poland and France.
Last month, Irish food inspectors announced they had found horsemeat in some burgers stocked by a number of UK supermarket chains, including Tesco, Iceland and Lidl.
Food and farming minister David Heath has said the Food Standards Agency is undertaking the biggest testing of beef products ever "to offer reassurance".
The government says the issue is about food labelling rather than food safety and that there is no reason to believe any frozen food currently on sale is unsafe or a danger to health.
The potential danger of eating horsemeat is thought to centre on drugs given to some of the animals.
Beef is not served to any large extent for school lunches, according to Laca, with chicken and pasta and vegetable dishes being more popular.
School meals are provided through a variety of routes. Some schools organise their own catering, while others contract the service in through private companies or the local authority.