'We have at least one row a week' say a third of parents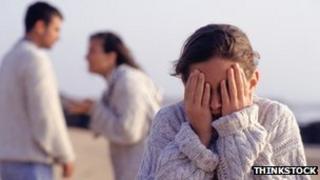 More than one in three couples with children argue at least once a week, while one in 10 have fewer than one row a year, suggests research for the relationship support charity, Relate.
The biggest cause of friction is money, causing 33% of rows, says the charity.
Researchers questioned a representative sample of 1,632 UK parents in a relationship for more than three years.
Of those surveyed, 20% felt they rowed too much, while 69% were comfortable with the amount they argued.
And 54% said it was never acceptable to argue in front of their children.
The survey also found the parents were more likely to feel comfortable about arguing with work colleagues (40%) than with friends (53%).
"Arguments are a natural part of any relationship", said Ruth Sutherland, of Relate.
"It is encouraging that most people feel comfortable with how much they argue. However Relate knows that arguments can be damaging to relationships."
Last June a Relate survey of more than 200 counsellors working with couples and families found money was a growing problem for families experiencing relationship difficulties.
"It is no surprise that money worries again top the list of things people are most likely to argue about," said Ms Sutherland.
She added that last year's Cost of Family Breakdown Index, from the Relationships Foundation, indicated break-ups cost the UK economy £44bn a year.
The latest survey was published to coincide with the launch of a free online questionnaire that allows people to identify their own arguing style and its compatibility with other styles.
The Arguments Check-Up identifies four types of arguers - "defenders", "appeasers", "challengers" and "retreaters".
Susan Quilliam, who devised the questionnaire, said it would help couples "understand each other more... and improve the way they argue".
Relate stressed that anyone who felt threatened, trapped or had experienced violence through an argument should seek help through charities such as Women's Aid, Relate or the Domestic Violence Helpline.