Revamp of vocational courses unveiled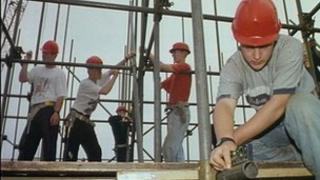 Teenagers in England are to be offered the chance to take new courses in engineering and construction as part of an overhaul of vocational education.
Ministers said they would develop seven qualifications in the two subjects to equip youngsters with relevant skills.
The Department for Education also said thousands of vocational qualifications which were "of limited value" would be cut from A-level league tables.
Labour said vocational education was an "afterthought" for this government.
In total, there will be four new vocational qualifications in engineering and three in construction for young people aged 14 to 16.
A new committee is being set up, involving employers, exam boards, professional bodies and further and higher education, to develop the construction qualifications.
Diplomas
The move will be seen by some as similar to the previous Labour government's flagship diploma qualifications.
The first of these courses - in engineering, construction, information technology, creative and media, and society health and development - were introduced in some schools in England in September 2008, with others brought in 12 months later.
In 2012, supporters of the engineering diploma expressed anger that the qualification for 14- to 16-year-olds had been downgraded after it was announced that it would be worth the equivalent of one GCSE in future, instead of its previous five.
In November, Chancellor George Osborne said the Royal Academy of Engineering (RAE), backed by the DfE, would work with employers to redesign the main part of the engineering diploma and turn it into four qualifications, each equivalent to one GCSE.
The DfE has now confirmed that the RAE is heading up a group of engineering groups who are developing the new qualifications, which it said would "prepare students for careers in the engineering sector and meeting demands of the sector".
Skills Minister Matthew Hancock said: "For vocational education to be valued and held in high esteem we must be uncompromising about its quality. Vocational qualifications must be stretching and strong."
League tables
The government is also launching a consultation over plans to leave up to 90% of vocational qualifications out of post-16 league tables in England.
Ministers want to drop those vocational courses from college and sixth-form league tables which, they believe, fail to progress youngsters into employment or higher education.
Almost 4,000 courses are currently included and the proportion of 16- to 19-year-olds taking at least one of them has risen from 30% in 2008 to 48% in 2012.
Mr Hancock said: "At the moment too many students are spending time working hard, but getting nowhere.
"This is not their fault. The vocational courses they are taking have limited value in the jobs market.
"But because they count equally in the performance tables, they appear to have the same value. This is not true."
From 2014, only 70 equivalent qualifications or "equivalents" will count towards school league tables based on GCSE results.
Currently the government's benchmark for 16-year-olds to achieve five A*-C GCSEs, including maths and English, includes equivalent qualifications. These can be subjects such as horse care, fish husbandry and nail technology.
But shadow minister for young people Karen Buck said: "Vocational education is little more than an afterthought for this government.
"They need to do more than simply focus on tweaking league tables. They need to give more young people the chance to study and progress through rigorous vocational courses.
"Labour would establish a new, gold standard vocational qualification at 18 - the Technical Baccalaureate. We would get employers to accredit high quality, rigorous courses."
General secretary of the Association of School and College leaders, Brian Lightman, said he welcomed any move to give vocational qualifications the same status as other academic subjects.
But he added: "What is not clear is how the new qualifications fit in with existing qualifications or proposed changes to A-level and to the curriculum.
"We desperately need a coherent policy from the government on qualifications and curriculum. At the moment that is sorely lacking."