One million poor children 'denied free school lunch'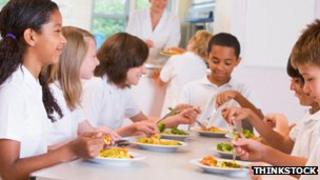 More than one million children living in poverty in England are missing out on free school meals, a children's charity says.
The Children's Society report suggests more than six in 10 children living in poverty in 57 constituencies are not getting a free school meal.
In some areas, more than two-thirds of children in poverty miss out, it adds.
The government says free school meals will continue to be available to the families in most need.
The report says more than half of the 2.2 million schoolchildren living in poverty miss out on a free school lunch.
Of these, it says, 700,000 are not entitled to one - often because their parents work over a specified number of hours a week, regardless of how little they earn, the charity adds.
'Proper meal'
The charity defines poverty levels as families living under 60% of the median income - which the charity calculates as £529 a week for a couple with two children. This is after tax and housing costs and with any benefits or tax credits included.
So a two-child family living on less than £318 per week would be counted by the charity as living in poverty.
Currently only families on certain benefits or annual incomes of less than £16,190 are entitled to free school meals.
According to the charity's analysis, the highest proportion of the children affected by the issue are in the East, South East, the South West and London.
The joint top two constituencies are Horsham, and Bognor Regis and Littlehampton, at 69%, closely followed by Mitcham and Morden, and Arundel and South Downs at 68%.
Of England's 533 constituencies, only 22 have fewer than 10% of children in poverty missing out on free school meals.
The Children's Society says for some children, a free school lunch may be the only proper meal they get. It is calling on the government to make free school meals available to all children in poverty.
It also says many teachers often saw children going hungry in school.
However, eligibility for free school meals is used by the government to target money to schools with disadvantaged children. And schools also use it as a means of offering other sorts of support such as free access to school trips and after-school clubs.
For parents in poverty, finding the £370 a year needed for each child's school meal often means struggling to provide their children with the basics, including buying them shoes for school and heating the home, according to the charity.
Many low income families are unable to get free school meals simply because their parents are working - regardless of how little they earn.
Matthew Reed, chief executive of the Children's Society, said: "It is shocking that huge numbers of children in poverty across the country are missing out on a free school meal. Every child in poverty should be entitled to this vital support.
"We know from the families we work with up and down the country that parents are struggling to make ends meet. Right now, the government is reconsidering which children will be entitled to get free school meals.
"We urge the government to take this opportunity to make sure all children in poverty can get a free school meal."
With the introduction of changes to the benefit system under Universal Credit, the Children's Society believes the government has an "important opportunity" to make this happen.
A Department for Education spokesman said: "No child should go hungry at school - 1.3 million of the most disadvantaged children currently claim a free, nutritious meal at school every day. Some schools also provide breakfast clubs which offer free or subsidised meals to pupils from poorer families.
"We are committed to ensuring that free school meals continue to be available to the families who need them most. Local authorities and schools also share a responsibility to ensure that every eligible child in their area is signed up.
"In addition, the pupil premium, which will increase to £900 per pupil - £2.5bn a year - in 2014-15, targets extra money to ensure schools can provide support to the most disadvantaged children."