Levi Roots in bid to inspire pupils to cook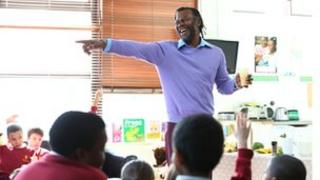 Musician and businessman Levi Roots has embarked on a national tour of schools in a bid to inspire pupils to cook.
Mr Roots says he supports government proposals for compulsory cookery lessons for pupils aged seven to 14.
The National Curriculum Review has recommended food and nutrition be taught in schools in England from 2014.
"For me cooking and music go hand-in-hand and too many youngsters see them as dull or laborious subjects, which is far from the truth," said Mr Roots.
"My hopes for the tour this year are to get young people excited about cooking and music, but also to prove to them that it doesn't matter where you come from or what your background is, if you work hard and stay determined you can be a success," he added.
Musical roots
"I want to meet as many young people as I can this year and hope that my enthusiasm is infectious. If I can inspire just one person, then the tour will have been worth it."
He has been visiting schools in his local area of south London for the past five years, aiming to encourage pupils to commit to their studies and discover and follow their passions. He says the positive response of teachers and pupils has encouraged him to expand his School of Life tour nationally.
Mr Roots uses his own life story as an example. He came to the UK with his parents at the age of 12, settling in Brixton, south London. He made a name for himself as a musician, was nominated for a Music of Black Origin (Mobo) award in 1998 for his Free Your Mind album and later became an entrepreneur, cookery writer and presenter.
Each school visit includes a flavour of his music, some tips on how to succeed in business and a cookery lesson.
The government has said that if approved, compulsory cookery lessons should instil "an understanding of good food" in children and help combat the obesity crisis.
The move was recommended in a review by restaurateurs Henry Dimbleby and John Vincent, who said children should be taught the basics of nutrition and be able to cook a meals for their families.
The cookery writer Delia Smith has voiced scepticism about the effectiveness of the plan as many schools lack kitchens or equipment for cookery lessons.