Gove no confidence motion passed by teaching union ATL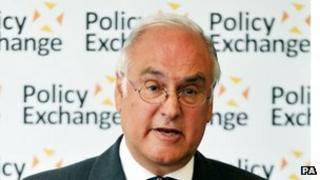 Teachers have passed a motion of no confidence in Education Secretary Michael Gove and the chief inspector of England's schools, Sir Michael Wilshaw.
Both are accused by the Association of Teachers and Lecturers of failing to improve education and not treating teachers or parents with respect.
The vote of no confidence was passed overwhelmingly by 300 delegates at the ATL's annual conference in Liverpool.
The government said it wanted a robust and rigorous education system.
It is understood to be first time the union has passed such a motion. But Mr Gove has angered teachers over the past year with changes to their pay and pensions and to the national curriculum and exams.
Jean Roberts, a teacher from inner London, told the conference that the pressure the two men were putting on staff was "horrendous" and that it was time to say: "Enough was enough.
"I have no confidence in Gove or Wilshaw - if any of us behaved towards pupils in this way, we would be sacked."
But one delegate, Jesse Ratcliff from Lincolnshire, urged caution, saying the unions should wait until the general election to voice their concerns.
'Blood brothers'
Speaking after the vote was passed, ATL general secretary Dr Mary Bousted said: "Michael Gove and Sir Michael Wilshaw are like blood brothers with a pact to suck the life and hope out of our education system and the teachers who work within it."
Dr Bousted said teachers felt demoralised and "do not see the reality of Mr Gove and Sir Michael's criticism and constant denigration in the work that they do."
"When you've tried your hardest and you keep being ignored then, in the end, you lose confidence and that's what conference has overwhelmingly said today."
Earlier, in her speech to conference, Dr Bousted launched a stinging attack on Mr Gove and his "wrong-headed" policies.
She said it was her duty to "castigate the man who is undermining everything we stand for".
In a survey of 996 members, 91% rated Mr Gove's overall performance as a D - or a fail for the purposes of school league tables.
The survey, which gauged ATL members' opinion of his policies since he took office in 2010, saw 70% give him a U for his policy decision allow schools to hire unqualified staff.
Rushing through legislation to allow schools to convert to academy status was graded a D or below by 91% of respondents.
And his vision for schools and school buildings was given a U by 48% of those surveyed.
'Champion'
A Department for Education spokesperson said: "For too long other countries have been outpacing us. We need to make sure we have an education system that is robust and rigorous, with exams and qualifications that match the world's best. This ambition is surely something the ATL should be supporting.
"Good teaching is critical to the success of our education system and we are making sure that it is properly recognised. We have put in place measures specifically to support teachers through increased funding for disadvantaged pupils and better opportunities for professional development.
"We have significantly reduced bureaucracy, given more autonomy to schools than ever before and we are making sure good teaching can be better recognised through the pay system."
An Ofsted spokesman said it was there to champion the right of all children and learners to a good education.
"Sir Michael has said from the outset any provision that is less than good is not acceptable. That's a tough message, especially for those schools and colleges that have been coasting. It's inevitable that when you challenge the system to do better, you will get some pushback.
"Ofsted, under a new regional structure that provides support as well as challenge for providers, is already promoting improvement as we work towards our ambition of ensuring a good education for every child. This is vital if England aspires to have a world-class education and skills system."