Parents face big local differences in secondary places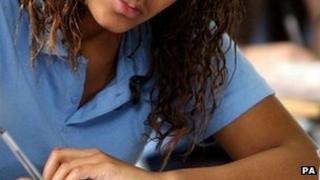 In some parts of England, more than 40% of families failed to get a place in their first preference secondary school, according to official figures.
The overall average shows that 86.7% gained their first choice of school for this autumn, higher than last year.
But there were wide local variations - between 54% and 99% - revealing the pressure on schools in some areas.
Schools Minister David Laws said the overall improvement reflected allowing the "best schools to expand".
There were also some local authorities with much higher proportions of pupils not getting any of their school choices.
In Hammersmith, 12% did not get a place in any of their six preferences, 11% in Kensington and Chelsea and 5% in Birmingham.
These figures, published by the Department for Education, show how many families received offers from their chosen schools on National Offer Day last month, when hundreds of thousands of places are allocated.
The national figures show an improving picture - with more children given their first choice place, more getting one of their top three places and more getting at least one of their chosen options.
But there are substantial regional differences in the availability of places - with surpluses in some areas, but an acute pressure on places elsewhere.
Some schools are heavily over-subscribed - and there are some areas with a wider range of different types of schools and more competition for the most popular.
The rising birth rate is driving a big expansion in primary school places, with many temporary classrooms being added, and this is set to move through to the secondary school population.
The north-east of England has the highest proportion of first preferences - with North Tyneside having 99% of families getting their first choice, the highest in the country.
The area with the lowest proportion of first preferences is London, with an overall average 71% of families getting the place they most wanted.
Within London, Hammersmith has the lowest level of first preferences - with only 56.7% getting into their first place school. Westminster, Wandsworth, Kensington and Chelsea and Southwark all have below 60% getting their first preference.
There were other authorities where an even lower proportion of children achieved their first choice. In Buckinghamshire there were only 54% of successful first preferences and 55% in Slough.
This national picture also shows there are differences in the number of options given to parents - in London there are six preferences, but in many other parts of the country parents are given three preferences.
Schools Minister David Laws said: "We want every parent to have the choice of a great local state school and we are determined to make more progress. That is why we have made it easier for the best schools to expand and take on more pupils.
"We are also opening hundreds of academies and free schools every year, giving more parents the option of a high quality education for their children."