Teachers vow to press on with strike plan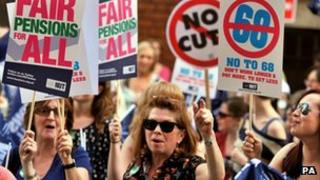 Teachers' unions are to press ahead with industrial action, despite a letter from the education secretary ruling out any retreat over changes to teachers' pensions and performance pay.
The two biggest teachers' unions in England, the NUT and the Nasuwt, are gathering for their annual conferences.
NUT leader Christine Blower accused Education Secretary Michael Gove of "gamesmanship" and using sound-bites to "demean the profession".
He says his plans "reward excellence".
The education secretary has written to the leaders of both teachers' unions saying that he would meet them for talks.
But he told them there would be no re-negotiation of planned changes to performance pay and pensions.
"The direction of travel is now fixed," wrote Mr Gove.
Classroom walk-out
But speaking at the beginning of the National Union of Teacher's annual conference in Liverpool, general secretary Ms Blower said the union was not backing down.
"We are not rowing back from our position. We have put forward these reasonable demands and we want to talk to him about them," she said.
"Negotiation is about sitting across the table having an exchange and listening to people."
The NUT, in a joint campaign with the Nasuwt, has already announced a series of local strikes in the summer term, followed by a one-day national strike in the autumn.
The government wants to stop an annual increase in teachers' pay and to extend the use of linking pay to performance.
The teachers' unions say there is no evidence that the pay shake-up will raise standards and they want a delay to the implementation.
Ms Blower said that a hallmark of successful education systems was that governments worked with - rather than against - their teaching professions.
Inspection complaints
The teachers' union conferences, representing a combined membership of over 600,000 staff, will hear challenges to Ofsted inspections and the expansion of England's academy schools, as well as opposition to the widening of performance pay.
England's education watchdog Ofsted and its chief inspector Sir Michael Wilshaw will be the focus of particular criticism.
Teachers have accused the inspection system of being misused as an arm of the government's policy of expanding academies.
They have also been angered by what they claim is the negative portrayal of teachers by Ofsted and the government.
Chris Keates, general secretary of the Nasuwt, which is meeting in Bournemouth, said there had been a "relentless attack" on teachers and that government policies were damaging children's education.
"The key issue is the impact of government policy on children and young people," she said.
"Teachers are concerned that children's rights are being stepped over and there is a real concern about their pay and conditions. Children need teachers who are rewarded as highly skilled professionals."
Teachers at the conferences will also be debating changes to the national curriculum and the qualifications system.
Raising status
The government says its planned changes to pay will improve standards and raise the status of teaching.
A spokesman from the Department for Education said: "Far from undermining teaching we are taking steps to make sure that it is properly recognised.
"We are reforming teacher training to attract the best graduates and professionals, investing £4m in professional development for existing teachers and reforming pay so schools can attract and retain the best teachers who have the greatest impact on their pupils' achievements."
He added that the government's academy programme was "turning around hundreds of under-performing schools".
Ofsted has rejected the anticipated criticism this weekend.
A spokeswoman said: "Ofsted is there to champion the right of all children and learners to a good education. That's what parents want and that's what young people deserve."
"Sir Michael has said from the outset any provision that is less than good is not acceptable. That's a tough message, especially for those schools and colleges that have been coasting. It's inevitable that when you challenge the system to do better, you will get some pushback."