Cash shortfall for school repairs claims Labour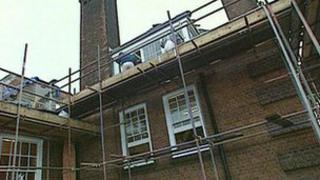 School buildings in England are crumbling because the government is not allocating enough money for repairs, the Labour party has claimed.
Figures from 89 local authorities (59% of the total) suggest a repair backlog of more than £3.5bn, says the party.
The party says the government's capital allocation for 2013-14 will cover less than a quarter of the costs.
A spokesman for the Department for Education (DfE) called the story nonsense.
"We are spending £16bn on improving existing schools and building new ones, more in this parliament than the previous government spent in its first two parliaments combined.
"More than £6bn of this is set aside for school maintenance."
Labour sent Freedom of Information requests to all local authorities in England.
'Potential' bill
It says that the estimates received from the 89 local authorities that responded added up to a total potential repair bill of £3,606,502,746.
This represents only 59% of the total number of local authorities so "across all local authorities the figure is set to be even bigger", claims the party.
Last month the government announced £595m of maintenance capital to local authorities to "support the needs of the schools they maintain and for the Sure Start children's centres in their area".
Labour says this represents a considerable shortfall.
Stephen Twigg, the shadow education secretary said: "David Cameron slashed funding for school buildings by 60% when he came into office, twice the Whitehall average cut to capital spending.
"Too many pupils are having lessons in classrooms that are crumbling, overcrowded or with leaky roofs. David Cameron and Michael Gove are letting pupils and parents down. They must get a grip.
"Labour would bring forward capital spending on schools to get our flatlining economy growing again. That would be good news for construction jobs and good news for children."
The DfE spokesman added that the government was "undertaking a condition survey of around 24,000 schools to ensure we spend taxpayers' money on those that need it most."
Labour's claims of a repair shortfall come a month after criticism of the government's scheme to rebuild England's most dilapidated school buildings.
In March it was reported that scores of projects to rebuild some of the worst school buildings were being held up by delays in finding private cash to fund them.
The government is now looking to capital bond markets and even the European Investment Bank to fund the Priority School Building Programme.
The programme was brought in by Michael Gove in 2010 to replace Labour's Building Schools for the Future Scheme, which the Coalition government said was beset by bureaucracy and delay.