Plans for special week of lessons on Shakespeare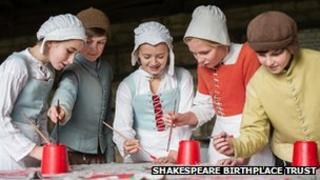 Children in UK primary schools are to learn about Shakespeare through drama, cookery and sport lessons.
The Shakespeare Birthplace Trust is planning a Shakespeare Week, saying it wants every child in Britain to understand the playwright's legacy.
The week will take place between 17 and 23 March next year - the 450th anniversary of his birth.
The trust, which oversees Shakespeare sites in Stratford-upon-Avon, will offer schools free lesson materials.
It said these resources would give teachers ideas on how to educate children about Shakespeare in lessons ranging from drama and creative writing to cookery and sport.
The campaign has won the support of leading academics as well as actors and actresses such as Dame Judi Dench.
'Electrifying stories'
Dame Judi Dench said: "How splendid that the Shakespeare Birthplace Trust is taking the lead in encouraging children to celebrate Shakespeare's great legacy. Shakespeare Week should become a great and joyous national festival."
Baroness Floella Benjamin said: "It's always a joy to see the reaction of young people when they are exposed to Shakespeare. Celebrating Shakespeare Week is a great way of giving young people inspiration and aspiration."
Carol Rutter, professor of Shakespeare and Performance Studies at the University of Warwick, said an introduction to William Shakespeare was one of the most important things adults could give children.
"He's someone they can know for the rest of their lives. He'll tell them some of the most electrifying stories they'll ever hear.
"He'll talk to them about some of the biggest ideas they'll ever have to think about and deal with. He'll give them access to some of the most fascinating, terrifying, troubled, funny, endearing people they'll ever encounter.
"He'll give them language that will continuously stretch their intellectual and emotional capacities, language tried out and tested in Shakespeare's fictive world that will equip them to imagine and be themselves in their real worlds. He's a scientist who puts humanity under the microscope."
Education Secretary Michael Gove, who backs the week and is due to speak at an event launching the campaign on Tuesday evening, said: "Shakespeare's language is our language.
"It is our inheritance. Through Shakespeare Week, many pupils will have the chance to share and enjoy this inheritance."
Under an overhaul of the national curriculum in England, 14- to 16-year-olds will study two Shakespeare plays, rather than the one currently required, while seven- to 11-year-olds will learn about the playwright in history lessons.