Parents hear about primary school places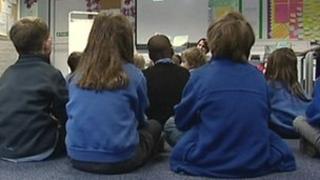 Parents in some parts of England - including London - are finding out whether their children have got places at the primary schools they want.
Families in the capital who opted for online notification are hearing this evening, while others will hear by letter from tomorrow.
Parents in Oxfordshire, Liverpool and East Riding are among those also finding out about places.
About 600,000 pupils will start in reception classes this autumn.
In London, four out of five parents (81%) got their first choice of school - up on last year - while 92% got one of their top three choices.
In Oxfordshire, Liverpool and Wolverhampton, about 90% of parents got the school they put first on their list of choices.
In Kent, where parents found out about places earlier this month, 85% got their first-choice school, while 96% got one of their top three choices.
In East Riding, almost 99% got one of their top three choices.
There is intense pressure on primary places in London and fewer people in the capital usually get their top choice than in other parts of the country.
There are also pressures in some other parts of the country, including Manchester and Bristol.
School place shortage
London Councils, which represents 33 boroughs, says an extra 79,000 primary school places will be needed by 2016.
And a report from the National Audit Office last month said an estimated 250,000 new places (mainly primary) will be needed by autumn 2014 to meet rising demand caused by the rising birth rate.
Extra classes are being added to schools in the areas under most pressure and new schools are being built under the free schools and academies programme.
The government says an additional 80,000 primary places were provided between September 2010 and September 2011 and that local authorities have told ministers they expect school capacities to have increased by a further 110,000 places by this September.
A Department for Education spokeswoman said: "We are spending £5bn by 2015 on creating new school places - more than double the amount spent by the previous government in the same timeframe.
"By September, we expect 190,000 extra places will have been created, with many more still to come.
"We are confident that our huge investment will mean councils are able to deal with the extra demand for primary school places through building new schools and expanding existing good ones."
'Red tape'
Local councils are currently bidding for a share of £1bn recently allocated to create places in areas of greatest shortage.
Councillor David Simmonds, from the Local Government Association, said: "The big concern is that we are coming close to using up the capacity in existing schools and the new schools that we need to be opening are caught up in extensive bureaucratic delays."
He said the opening of some free schools was being held up.
"We want and need to see these free schools open. Councils can quite quickly expand existing local schools but any new schools need to go through a lengthy approval process."
Helen Jenner, chairwoman of the Pan London Admissions Board which co-ordinates school admissions across London, said: "However proficient the admissions system is - and our arrangements in London are about as efficient and fair as it is possible to have - it cannot create extra places at schools which are already full.
"London local authorities are working hard to try to ensure that they can offer every child a school place for the start of the new academic year but given the scale of the demand for school places across the capital this is becoming increasingly difficult."
The government says it is working with local authorities to ensure funding is targeted where it is most needed.
Next year, there will be a "National Offer Day" for primary schools, in the same way as there is one for secondary schools, where councils coordinate so that parents across England find out about places on the same day.
The date will be 16 April 2014.