Who's the comedian in the classroom?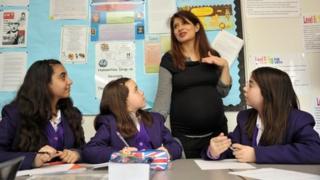 This must have been one of the least predictable audiences for a stand-up comedian.
Shappi Khorsandi was taking part in a classroom experiment where assorted celebrities, politicians and business leaders try their hand as teachers.
TeachFirst, the charity that recruits graduates for teaching, has been taking these volunteer teachers and asking them to provide a different kind of performance.
For Khorsandi this was a chance to deliver a history lesson to a class of 11 and 12-year-olds at the Sion-Manning Roman Catholic Girls' School in Ladbroke Grove, west London.
Fear of freezing
With the topic of Anne Frank there weren't going to be too many laughs, but there was plenty of empathy as the comedian told the pupils that she had been a refugee herself, escaping the Iranian Revolution in 1979.
But teaching the subject, she said, pushed her out of her comfort zone and left her with a fear of freezing mid-fact.
Such fears were groundless as she packed her lesson with a quickfire succession of video clips, questions and answers, readings from Anne Frank's diary and a group activity.
She held their attention without even the suggestion of a comedy club heckle.
Human history
There was also the chance to locate the story in the fickle world of youth culture - with references to Justin Bieber's recent controversial comment in the Anne Frank Museum visitors' book that he hoped this victim of the Nazis "would have been a belieber".
She also admitted to a "dream come true" when she was able to deliver the ultimate classroom catchphrase as she distributed handouts: "Take one and pass them on."
Her own experience of history lessons had left her with a dislike of lists and memorising facts - and she says that she wants history to show "the human side of things".
As such, Khorsandi, as temporary teacher, asked the girls to write diary entries describing their own imagined feelings of confinement.
Immigrant culture
Proposed changes to the history curriculum have been under debate - with accusations that a traditional "kings and queens" approach will not be appropriate in a modern, multicultural classroom.
Khorsandi says that growing up she had been "consumed by coming from an immigrant culture" - and that she used to go to lessons at the weekend to learn about Iranian history.
And at the end of her lesson she told the girls about the importance of rejecting prejudice as the legacy of the Anne Frank story.
Rebecca Maughan, the real history teacher, offered an encouraging first-night review, saying that the stand-up stand-in teacher had kept the class engaged and interested.
As one of a group of TeachFirst teachers at the school, she said it had been a "steep learning curve".
Heroic leap
But she said that teaching wasn't the same as performing - and that teachers had to avoid the temptation to fill every moment.
"It's not about the performance. It's about the children. It's all about their learning."
But she said that there was an element of creating a separate identity as a teacher in the classroom - a "professional persona" with a way of dressing, speaking and modelling forms of behaviour.
It certainly seemed to connect with the class.
And Shappi Khorsandi survived her heroic leap into the unknown.
"Good audience, couple of laughs. But no encore," she said.