Key hub of student protest in London faces closure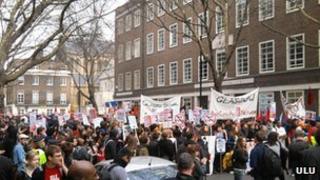 A students' union which is seen as a key hub of political protest in London faces closure after a decision by senior academics.
The University of London Union is to cease in its present form from summer 2014 after a review was accepted by university management.
Under the plan ULU will lose its role as a student union with elected officers but retain social facilities.
Supporters of ULU are planning a city-wide campaign to fight the decision.
Michael Chessum, ULU president, said the union was being targeted because of its high profile in recent years as a hub of campaigning activity and mobilisation against tuition fees.
He added: "This decision is totally illegitimate and will have a majorly negative impact on student life and representation in London: no student sat on the review panel, no student got a vote on the decision, and student responses have been ignored or brushed aside throughout.
'Dangerous precedent'
"It's not that we won't go down without a fight - we simply won't go down."
At a meeting earlier the university's collegiate council, composed of the academic heads of the self-governing colleges that make up the University of London, agreed to withdraw from 2014 some £750,000 a year currently paid to ULU by the individual colleges.
Instead this money will go to support student services within the colleges.
They agreed to back a plan to retain and refurbish ULU's central London building as a "student centre" with the "services that students most value... including the swimming pool, gym, shops, cafes, bars, venues and the administrative support for intercollegiate sporting events".
ULU's other major function, as a political hub for the 120,000 students attending the University of London at its 18 different sites across the capital, would disappear under the plan.
The review suggests that it could be replaced by "a focused, well-supported pan-London operation, responsible for co-ordinated campaigning, lobbying and representation for London students on London issues".
This would have to be financed separately from the student services centre, says the review, perhaps centrally by the National Union of Students or from subscriptions from student unions across Greater London.
Mr Chessum said that if adopted the plan would "set a dangerous precedent for university managements to move in with no mandate and shut down democratically run unions.
"Universities and colleges need vibrant, democratic organisation and debate as part of their academic culture. If the university goes ahead with this, they will be saying far more about their own mortality as an institution than they are about us. And the battle won't end there."
'Responsive to demand'
He claims that management-run student services are less of a challenge to the university than truly independent student unions.
But the university says that fewer than 2% of those eligible to vote did so in ULU's 2012 elections. It suggests this indicates that students focus their political interests on the student unions within their colleges rather than on ULU.
The eight-month review into the future of ULU was commissioned last year and chaired by the university's deputy vice-chancellor, Prof Paul Webley.
He said the changes would "enhance the student experience".
Prof Webley said: "We are confident that we can build a vibrant new student service centre that is both responsive to student demand and complements political life in their colleges."
The report would still need final approval by the university's board of trustees, which is due to meet this month.