One in three students wears 'lucky exam underwear'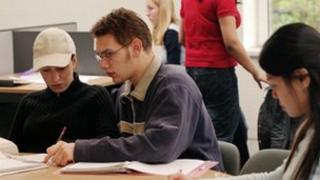 One in three students admits to wearing "good luck underwear" to try to boost exam chances, a poll suggests.
As well as lucky pants, some also use lucky pens, wear lucky jewellery or take charms into exams, the survey for a stationery company reports.
Almost a quarter (23%) of the 15 to 23-year-olds polled say they only start revision the day before the exam.
Revision expert Patrick Wilson warned that charms and rituals were no substitute for proper revision.
Some 60% of 2,000 students questioned by OnePoll for penmakers Bic said they changed their diet before exams because they believe some foods can boost their brain power and memory.
More than half take up eating oily fish (53%) and 46% eat more fruit and vegetables.
'Quick flick' revision
Some 65% of those polled said they were superstitious, with 33% becoming even more so as exams approach.
But 49% admitted not putting in as much revision as they thought they should, with 14% saying their revision consisted of a quick flick through their notes and hoping for the best.
A third said they never made excuses to get out of revision, but some claimed tiredness (28%) or feigned illness (20%) to avoid swotting.
Some 18% just said they preferred going out to revising, while 21% said they would rather do household chores than revise.
Panic tends to set in the day before the exam, with 61% staying up late, 40% up all night, and the average bedtime pre-exam being 2.19 am, according to the survey.
Mr Wilson said that students who had not put in enough revision were more likely to be stressed at exam time.
"It's unsurprising that so many are putting their faith in charms or adopting rituals to feel more assured.
Don't overload
"The best way to feel truly confident and help beat that stomach-churning exam angst is to prepare for each exam in advance, making sure you have a dedicated structure for your revision schedule."
Mr Wilson, who runs a tutor company, has teamed up with Bic to produce an online revision guide.
Top tips including making a revision timetable up to ten weeks before the exam, dividing learning into manageable chunks and sharing revision plans with parents and teachers.
It also advises students not to overload themselves, to do practice papers, and to give themselves regular rewards and breaks during revision.
All students learn differently, says the guide. Some benefit from colour-coding their notes, others from reading out loud,or talking through what they have learned with a teacher or study partner.
Staying up late the night before an exam is generally a bad idea, the guide suggests. It also advises students to pack a spare pen.