Labour plans network of 'elite training colleges'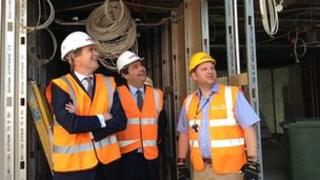 A network of a new type of high-level technical college in England is being proposed by Labour's shadow education secretary, Stephen Twigg.
Mr Twigg says if Labour comes to power he wants to see centres of excellence aimed at vocational skills rather than academic subjects.
Labour says that there needs to be the equivalent of "elite institutions" in further education.
Such colleges would raise the "status and esteem of vocational education".
Mr Twigg said: "We have some of the best universities in the world, it is high time that we had some of the best vocational colleges in the world too.
Technical universities
The proposal from Labour is aimed at improving the education on offer to young people who are not taking an academic path to university.
The idea of a network of "National Colleges of Excellence" would be to provide a way of driving up standards in vocational subjects and provide a "motivational focus".
Labour says that these would focus on individual areas of vocational expertise, such as engineering or healthcare.
These would also be expected to produce students who would be sought after by employers.
There have been concerns about the "skills gap" in England, with high levels of youth unemployment at the same time as many businesses are reporting that they are having trouble recruiting suitably-qualified staff.
Mr Twigg says he wants to create a credible vocational education that would be as "prestigious" as studying an academic subject at university, in a way that he says operates in Switzerland.
He also points to the high status of some international universities which specialise in technical and subjects.
"If we are to compete with the most successful economies in the world, we have to give our young people the skills needed to thrive in the modern world of work," says Mr Twigg.