Head teachers recognised in honours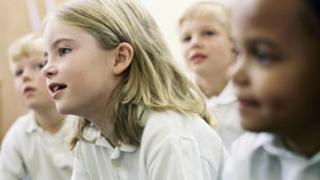 Five of England's head teachers have been knighted or made dames in this year's Queen's Birthday Honours.
Four are involved in the government's academy programme. The fifth has a role in its shake-up of teacher training.
Greg Martin, principal of Durand Academy, Lambeth, is best known for his plan to set up a non-fee-paying boarding school in West Sussex.
Kenneth Gibson leads two schools in Tyneside described as "beacons of hope" in a deprived area.
He has led Harton Technology College since 2003. Five years later it was highlighted in an Ofsted report entitled Excelling Against the Odds.
The school is now one of the top teaching schools in the region, where trainee teachers learn while working.
He also took on the leadership of Jarrow School in November 2010, turning it around, and helped support a failing academy in Sunderland.
'Inspirational'
Mr Martin became head teacher of Durand Junior School in 1986 when it was failing.
It also absorbed struggling neighbour Mostyn Garden Infant School and since then the results of children at the joint school have improved dramatically despite often tough circumstances.
Under its plans for a free secondary boarding school, the Department for Education says: "Durand pupils will have access to a boarding education that their families could not otherwise afford."
Also knighted is David Carter, whom the department describes as an "inspirational head teacher and educational entrepreneur".
He founded the John Cabot Learning Federation academy trust, which runs 11 academies in south-west England.
The DfE said of him: "He supports, advisers and mentors in schools outside his federation and continues to make a real impact nationally". Sir David "gives his time to speak at events to work through challenges and drive the academies agenda".
Complex disabilities
Dana Ross-Wawryzynski, chief executive of the Bright Futures Educational Trust academy chain, based in the North West, becomes a dame. She is described as a "driving force in educational reform" who "continues to be a role model".
As well as being executive head teacher of Altrincham Grammar School for Girls, she also works with a high school and two primary schools.
Dame Dana is now working with Manchester City Football Club to set up a post-16 free school in the area.
Sue Bourne, who also becomes a dame, has been head at The Avenue School in Reading for the past nine years. It serves pupils with severe and complex disabilities.
She also worked on the national programme to enable special schools to become academies.