Pupils in some areas 'twice as likely' to do degree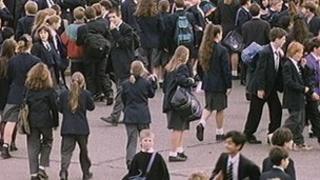 State school pupils in some local authorities in England are more than twice as likely to go to university as those from other areas, data suggests.
Almost two thirds (62%) of 18-year-olds stayed in education after A-level in 2010-11, with 48% on degree courses, according to experimental statistics from the Department for Education.
The figures were collated from multiple sources and need to be tested further.
But the government says the data should help parents identify the best schools.
Two London local authorities sent the highest proportion of state school pupils to university. The London Borough of Redbridge topped the list with 66% of its A-level students continuing to university. Ealing and Enfield was close behind with (64%).
However figures for Portsmouth, Southampton and Bristol suggest that only 31% of A-level students continued to university.
Degree of difference
The statistics also break down the information according to the proportion going to Oxford or Cambridge and other leading universities.
Again there were wide discrepancies. In 2010-11 some 6% of students at Reading state schools achieved an Oxbridge place, against a national figure of 1%.
Eight local authorities sent no students at all to Oxford or Cambridge, the data suggests.
The figures, for 2010-11, attempt to identify what two cohorts of teenagers were doing in the year after they took their A-levels and GCSEs. They focus in particular on the proportion in "sustained" education and employment, for at least six months.
The government cautions that the data is still being evaluated in terms of its reliability.
The figures for post-GCSE students suggest that some 89% were in "sustained" education, employment or training in the year after their exams.
Students who enrolled on shorter-term courses, jobs or work placements were not counted in this statistic according to a DfE spokesman. So this does not mean that the remaining 11% were necessarily not in any kind of education, employment or training.
Again the figures reveal variations between local authorities. In Harrow, Sutton, Slough and Redbridge some 93% were in sustained education, employment or training, against 83% in Nottingham and Newcastle upon Tyne.
Details on the destinations of pupils from individual schools are also included in the study.
Schools minister David Laws said: "These statistics demonstrate the gulf between the schools and colleges which deliver for their students and those which do not.
"Some students will be aiming to get a job after college. Others will be hoping to win a place at a great university. All schools and colleges must ensure they deliver for all their students, whatever that student's target."
'Untested' data
Brian Lightman of the Association of School and College Leaders however said the data was potentially "misleading".
"It is irresponsible of the government to issue what it admits is 'experimental' data and then to invite parents to make decisions based on it. It is dangerous to make sweeping conclusions based on incomplete and untested data.
"For instance, all students on gap years are considered in this data to be not in education. Data should prompt more detailed questions, not be used to draw hasty conclusions."
Chris Keates of the teachers' union NASUWT said the data lacked proper context and did not take into account "the circumstances in which schools are operating".
Ms Keates added that changes like the scrapping of the Education Maintenance Allowance had harmed the chances of young people from poorer backgrounds.
"Simply publishing pages of data does not represent real transparency by this government or any attempt genuinely to support all young people to achieve their best."