Housing association helps tenants to read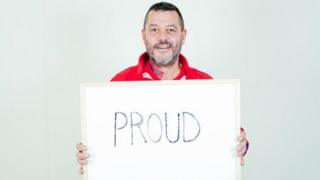 A few months ago, Christopher had to ask a neighbour or a friend to read him details of a personal hospital appointment or a letter about his rent. Now he can do it himself.
In and out of care homes all his life, Christopher left school at 13, without being able to read and write properly. But his life changed when he saw an advert in the local community centre about the Eastlands Homes Literacy Beacons Project in Manchester.
After six weeks of one-to-one tuition with a mentor, he was beginning to make sense of the words around him.
"I can pick up my mail and look at it, I can pick up books. Before I'd get a brown letter and I'd have to ask a friend or a partner to help," he says.
"It's like being proper independent. I don't have to knock on someone else's door. It's given me more independence and I'm proud of it like, I really am."
The Literacy Beacon Project was set up 18 months ago by the not-for-profit housing association Eastlands Homes for its tenants and others in the area.
Eastlands has 8,000 properties across east and south-east Manchester and many of these are in some of the most deprived wards in the country.
So far more than 40 people have completed the course.
The idea is simple - adults who struggle to read and write are matched with a volunteer "champion" or mentor who, after some training, meets with them regularly on a one-to-one basis over a six-week period.
The scheme started when front-line staff realised many tenants were struggling to read correspondence from them, using excuses like they had not received the letter or had lost their glasses.
Neighbourhood services manager Danny O'Sullivan says: "We knew a lot of our tenants had literacy problems.
"From a business point of view, it does us a good turn because they can read our letters and so on, but the drive behind the scheme was to help people in the community.
"We want to improve people's lives, we are a community project as well as a housing association."
'I can't read'
Danny says a lot of people who believe they cannot read or write actually do have some basic literacy skills, but have such low confidence they have convinced themselves they are illiterate.
He says: "If something frustrates us, we tend not to do it. Take technology - you'd rather ask the kids. You can do it, but the frustration stops you.
"The issue is the negative stereotype in your head, 'I can't read, I don't need to read, I'm not going to read.'"
Amanda approached the Literacy Beacons Project because she was struggling to fill out contact sheets in her role as a volunteer mentor for offenders recently released from prison.
"I was always behind with the sheets, but I couldn't get anyone else to do it because it's confidential information. Now I've got the confidence to pick up a pen.
"I think it's because of the one-to-one support, they made me feel dead confident. I had no confidence to pick up a pen.
"But here it's the best thing because it's a one-to-one. If I'm in a classroom I get all nervous and worried I'm going to be called thick, because that's what I've had in my life. It's all about my confidence, my champion gives me loads of encouragement.
"It's amazing, I've got someone saying I'm good and that makes me feel better about myself. It's made me feel really confident in my reading and writing.
"I can go for a job now, I've got the confidence to go for that job and go to the interview."
Reading champions
But it's not just the tenants who have benefited from the scheme. Eastlands has found that those who volunteer as champions have reaped huge rewards.
Paul, a champion who has helped four people develop their reading, says: "I retired a few years ago and I get so much reward out of this - I never got the buzz that I get out of this. It's time-consuming but it's lovely to do.
"As much as they're learning, we're learning from them because we're understanding their issues. All my working life I've never enjoyed anything like this."
Sam, who has mentored five tenants, adds: "It's so rewarding to see what you've achieved for somebody.
"It's better as well because we're not teachers and we don't spell everything right. They feel at ease with one person and they don't have to feel that someone's ahead of them."
Sam was particularly touched by the case of one elderly lady who had been constrained by literacy problems all her life.
"I had a 75-year-old lady and only her husband knew she had trouble with reading and writing," she says.
"When he passed away, she was on her own. She was buying the same things in the supermarket because that was what she recognised. But now she can read the labels - she has the choice."
Champions are not just community volunteers - staff working for the housing association are also encouraged to mentor those who sign up for the project.
Eastlands communications manager Abi Mistry says: "I had a woman with three kids and she'd never been able to leave her children little notes. When she finally wrote a letter to her eight-year-old son, she cried - and I cried, it was so emotional.
"She had left school with no qualifications, had her first child at 17 and couldn't help them with their homework. To see her confidence grow was amazing."
Prisons and probation offices
The housing association is now so confident with the scheme, it hopes to take it to other areas of need, such as prisons and rehabilitation centres.
Danny O'Sullivan says: "We're in talks with the National Literacy Trust. We're trying to grow it, to get it elsewhere. It's a great system and we hope it'll go out further.
"I'd like to see a lot of other organisations doing it and not just housing associations. It would be brilliant in prisons, in probation offices, drug rehabilitation centres, community charities, anywhere that socially deprived people are accessing.
"We understand it well enough now to take it to other places."
Amanda wants to see the project benefit other people like her.
She says: "I just think it should be rolled out everywhere because there are people out there, especially older people, who would be too scared to say, 'I can't read or write.'"
In the meantime, the literacy project has been shortlisted in the Business in the Community category at the Manchester Be Proud Awards.