Seventeen academies rapped over 'unacceptable standards'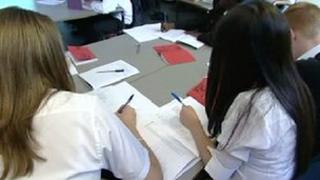 A minister has warned 17 academies over the standards of education they are providing.
The formal warning letters, issued since the start of this term, call for the schools to improve or face intervention.
Five of the warnings were for schools in one academy chain, AET, which was prevented from further expansion earlier this year.
All the schools warned may be put under new management unless they improve.
Academies are state-funded but privately run schools. And the 912 sponsored academies, as they are known, are schools that have previously been struggling and have been handed over to education trusts to run with a view to improving them in a short space of time
They are different from the 2,532 converter academies which tend to be higher achieving schools who have chosen to convert to academy status.
'Underperforming'
Pre-warning letters, as they are called, are part of the process by which action is taken on sponsored academies which are not improving as well as they should. The standards of education they are providing are considered to be unacceptably low.
The letters, all from junior education minister Lord Nash and his predecessor Lord Hill, appeared on a government website alongside 17 other older pre-warning and warning letters requiring academies to improve. This other batch related to the academic years 2011-12 and 2012-13 and have already been published, the Department for Education said.
'Take time'
A DfE spokesman said: "The majority of sponsored academies are thriving under great leadership. Their GCSE results are improving far faster than in other state-funded secondary schools.
"This is despite sponsored academies taking over from schools that were consistently underperforming, which can take time to reverse.
"But results in a minority of sponsored academies remain stubbornly low. We will not tolerate long-term underperformance in any school - including in an academy.
"That is why this government issues pre-warning letters and warning notices. The evidence shows that academies respond well to these warnings, achieving on average much better GCSE results afterwards.
"However, as with maintained schools, if these academies still do not make the progress we expect, we will take further action. This may result in a change to the sponsorship arrangements."
The Academies Enterprise Trust said it was acting to ensure a rapid and sustained improvement in the schools.
A spokesman said: "The AET academies listed by the department have a history of underperformance and have been with AET only for a short time. Many of these schools have a significantly higher proportion of special educational needs and Pupil Premium pupils than the national average. Many of our pupils start life in our schools with attainment levels well below the national average for their age.
"Our response to these challenges is to set ambitious targets for the progress that we expect pupils to make. Our culture of high aspirations is reflected in significant improvements in test and examination results across the board in the 21 primary and 24 secondary academies open for the full 2012-13 academic year."
The news comes after the Education Select Committee called for academy chains to face inspections from Ofsted.