Jobless young total dips slightly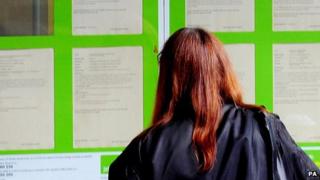 There was a small fall in the number of young people not in work or education in the UK last summer compared with the year before.
Figures from the Office for National Statistics (ONS) show there were just over one million people aged from 16 to 24 in this situation.
The number was 19,000 less than in the spring and 28,000 less than in the summer of 2012.
The proportion also fell slightly, to 14.9% of that age group.
According to the ONS, just over half (55%) of all young people in the UK who were Neet (not in work or education or training) were looking for and available for work and were therefore classified as unemployed.
The remainder were either not looking or available for work and were therefore classified as economically inactive.
In total, 1.07 million young people are Neet in the UK.
For the same summer quarter last year, 15.2% of 16- to 24-year-olds were Neet.
In the same time of year in 2011, the figure was 17%.
Skills shortage
Skills Minister Matthew Hancock welcomed the figures but said the government was determined to do more to prepare young people for the "world of work".
"We are expanding apprenticeships, introducing traineeships and working to give everyone the skills, confidence and experience demanded by employers," he said.
But the shadow education secretary, Tristram Hunt, said vocational and technical education needed improving to boost the economy and cut the number of young people who are Neet.
"We languish 21st out of all OECD [developed] countries in terms of technical skills - 31% of hi-tech manufacturing firms have been forced to import labour from overseas due to the skills shortage and there are one million young people unemployed," he told the annual conference of the Association of Colleges in Birmingham.