New bodies to oversee free schools and academies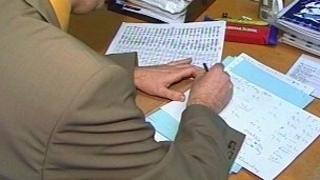 A new set of regulators is to be created to keep a check on the growing number of academies and free schools in England, sources have confirmed.
Heads with proven records at schools or academies, overseen by centrally appointed regulators, will have the power to take over failing schools.
Members of the eight head teacher boards will be elected by the heads of schools in their respective regions.
They will assume existing ministers' duties, according to The Guardian.
Academies and free schools are state-funded but semi-independent.
Labour and the teaching unions say there is not enough scrutiny of this new type of school.
They are directly funded by central government and are outside local authority control, although they are checked by Ofsted.
Ministers say they will drive up standards because their head teachers and governing bodies have more freedom over the curriculum, teachers' pay and conditions and the school day than other state-funded schools.
Delegating powers
The new head teacher boards will each be led by a regulator appointed by the government.
A source close to Education Secretary Michael Gove said: "The idea is delegating existing powers from ministers and the Department for Education (DfE) out to head teachers on the ground who know their area best."
The boards and their regulators will be given delegated powers, allowing them "to investigate and change the sponsors and management of failing academies or free schools", according to the Guardian, which has seen a leaked document on the plan.
Ministers have recently had to get involved with the governance of the Al Madinah free school in Derby, which was judged inadequate by Ofsted.
Another free school, The Discovery New School in West Sussex, was also given the same poor rating and has been put in "special measures" by inspectors.
At the moment, the DfE holds ultimate control over free schools and academies.
Policy 'failing'
There are now more than 3,400 academies open in England, including more than half of the country's secondary schools.
Primary schools have been less keen to make the change, which qualifies schools for extra money which would previously have been spent by local authorities on their behalf to provide services. There are 174 free schools open.
Labour says the plans amount to an admission from Mr Gove "that his schools policy is failing".
Tristram Hunt, the shadow education secretary, said: "The government's aggressive free-market education strategy has not delivered the improvements we need. We have been clear that the secretary of state cannot run thousands of schools from Whitehall.
"But these plans will fall far short of what is needed. For high standards in all schools we need real local accountability and oversight.
"These plans would not have prevented the failure we saw at Al-Madinah Free School."
Mary Bousted, general secretary of the Association of Teachers and Lecturers (ATL), said: "We are pleased that Michael Gove realises he cannot run academies and free schools from central government.
"However, this proposal creates a whole new layer of bureaucracy with no consideration of how the local community will hold these schools to account."
The government source said the plan had been under consideration for some time and that the schools minister, Liberal Democrat David Laws, was "supportive".