Poorest teens 'see study grant stealth cuts'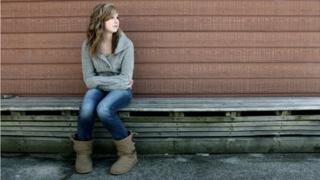 Some of England's poorest teenagers have suffered "stealth" cuts to grants aimed at helping them stay in education, a group of charities says.
The government's Bursary Fund to help disadvantaged 16- to 19-year-olds meet the costs of studying has not kept up with inflation, says the group.
Some students have "lost about 10% from their grants", say the charities, which include Barnardo's.
The government says the £180m fund targets money at the poorest students.
The Bursary Fund replaced the Educational Maintenance Fund (EMA), which the government scrapped in 2011.
Everyday costs
Some of the fund pays for grants of £1,200 a year to about 12,000 vulnerable students, who include disabled teenagers and those in care or on income support.
The payments are designed to pay for the everyday costs of study, for example transport to college.
The group of 15 charities for young people and children calculate that as the grant has not been increased with inflation, its value is now £120 less than when it was introduced almost three years ago.
In 2012 a Barnardo's report said the Bursary Fund was "inadequate" and some young people were skipping meals to afford their fares to college.
Their latest concerns are shared other charities, including The Who Cares Trust, Action for Children and the British Association for Adoption and Fostering.
The group says that without action to update the fund, some students will drop out of education as it has become too expensive.
Ahead of Thursday's Autumn Statement, the charities are urging the government to raise the annual payment to £1,350 to compensate for inflation over the past three years.
Funds 'eroded'
Jonathan Rallings, Barnardo's assistant policy director, said any further depletion of the grant risked pushing "thousands of disadvantaged young people" out of education.
"The government cannot stand by and let the UK's most vulnerable students see their one chance at study vanish, as the value of their hardship funds are eroded under the rising cost of living."
The guaranteed grants of £1,200 to the most vulnerable teenagers make up only a small part of the Bursary Fund.
The bulk of it funds "discretionary bursaries" to students facing genuine financial barriers to continuing in education.
These vary in value and are administered by schools and colleges.
The Department for Education said the "targeted support" of the Bursary Fund was better value for money than the "wasteful" EMA.
A spokesperson said: "The most disadvantaged... are receiving more than they used to and over eight in 10 colleges think the new bursary effectively targets those in need.
"We are also now giving free meals to those college students who need help most, so they don't have to use this money to pay for food at college."