'Vulnerable students will be hit by cuts for 18-year-olds'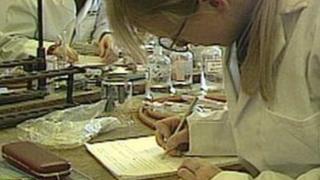 The most vulnerable students will be harmed by plans to cut funding for 18-year-olds in full-time education, say school and college leaders.
From September, funding for students in England who are already 18 will be cut by 17.5%, the government has announced in a letter to schools and colleges.
These students have already had two years of post-16 education, it argues.
"These are the students who need extra help, not less," responded Martin Doel of the Association of Colleges.
The letter, from the Education Funding Agency (EFA), was sent on Tuesday and says savings are required from the 16-to-19 education budget "to contribute to reducing the overall public sector budget deficit".
Angry reaction
Ministers decided to focus the cuts on older students as "their policy priorities" are to support the raising of the school leaving age for 16- and 17-year olds, says the letter, signed by the agency's national director for young people, Peter Mucklow.
"Most 18-year-olds will already have benefited from two years of post-16 education and will not therefore need as much provision within their study programmes as 16- and 17-year-olds," says the letter.
A DfE spokesman said the changes would "affect less than a fifth of students and amount to an average reduction of 2% across all institutions.
"Students with learning difficulties or disabilities will be excluded from this restriction, and those students without a grade C in English and maths will continue to attract disadvantage funding at the full rate."
The plan has provoked an angry reaction from schools and colleges specialising in this age group.
"Young people who have struggled to reach the expected level by the age of 18 and therefore need to stay in education a year longer, will see their funding cut," said Mr Doel, who also pointed out that education for 16- to 18-year olds is already funded at a rate 22% lower than pre-16 education.
James Kewin of the Sixth Form Colleges Association added: "We understand that there is a need to address the hole in the public finances, but this should not be achieved by reducing the funding available to some of the most vulnerable young people in our education system."
Mr Kewin added that although the age of compulsory education and training is being increased to 18, education funding is only protected to the age of 16.
"As a result the Department for Education is repeatedly raiding the budget for 16- to 18- year-olds to meet the Treasury's demand for cuts."
College leaders argue that far from needing less support, students who remain in post-16 education for a third year are some of the most vulnerable.
'Struggled massively'
They are often students who have struggled throughout school who can ultimately achieve success but only with study support, personal mentoring and work placements," said Kathryn Podmore, principal of Birkenhead College.
"Or they are students who struggled massively in their first year in post-16 and re-started at age 17.
"They are more vulnerable, lower in confidence and we do not deserve a cut in funding for the service that we must provide them."
Malcolm Trobe of the Association of School and College Leaders said that if funding for 18-year-olds was cut, some schools and colleges might be tempted to shoehorn students who needed three years of post-16 education to achieve their qualifications, into two-year courses.
"This may mean more students failing or simply dropping out of education", said Mr Trobe.