Teacher licences 'threaten' profession, union says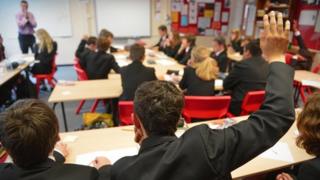 Labour plans to introduce licences for teachers have been criticised by one of the profession's largest trade unions.
The National Union of Teachers (NUT) said the move would be seen as "a threat not as an opportunity".
But the NASUWT said it could work with Labour on shadow education secretary Tristram Hunt's proposals so long as there were "important preconditions".
Earlier, Mr Hunt said regular re-licensing would aid the best teachers and allow the worst to be sacked.
The move has been labelled as unnecessary by the NUT's general secretary Christine Blower.
"In order to become a teacher you already have to pass an induction. You are overseen by Ofsted, you are overseen by your head teacher," she said.
"Teachers will see this as a threat and not as an opportunity to enhance their professional status," she added.
'Tried before'
The previous Labour government made a similar proposal for what became known as "classroom MOTs" but dropped it after it was opposed by some teaching unions, the BBC's political editor Nick Robinson said.
At present teachers are unlicensed.
Both Labour and the Liberal Democrats have criticised the fact that some of those working in the government's new "free schools" can teach without having "qualified teacher status".
Tristram Hunt told the BBC the latest idea to licence teachers was about recognising the "enormously important" role that teachers played and helping the profession "grow".
"Just like lawyers and doctors they should have the same professional standing which means re-licensing themselves, which means continued professional development, which means being the best possible they can be," he said.
"If you're not a motivated teacher - passionate about your subject, passionate about being in the classroom - then you shouldn't really be in this profession.
"So if you're not willing to engage in re-licensing to update your skills then you really shouldn't be in the classroom," he added.
The plans have been given a cautious backing by the NASUWT, which represents more than 320,000 teachers in the UK.
General secretary Chris Keates said she would be interested in the scheme if it involved better training and support for teachers and applied to all schools.
"If it's a licence that's going to apply not just to state schools but right across the independent sector - as a licence in medicine to practise applies to doctors whether they're in the NHS or the private sector," she told BBC News, "Then I think there's a positive basis for us to have a discussion with Labour."
However the move drew criticism from a former schools minister, the Conservative MP Nick Gibb, who said it had been tried before and failed.
"It's the recreation of the General Teaching Council, which was a bureaucratic, expensive and very ineffective body," he said.
"You can't create a professional body at a government level and impose it on a profession. All the professions like lawyers, accountants, doctors - their professional bodies came from within the profession," he said.
'Fear'
The plans have also been met with disappointment by one head teacher.
Frank Barratt, head of St. John Fisher Catholic Primary School in Sheffield, said he resented "the political battle between the parties to demonstrate that they are 'being tough' on the profession in the pursuit of high standards".
He said: "As a committed education professional and new head teacher, I want my school to achieve the very highest standards - as do my colleagues - because it is the right thing for the children in our care, and not out of fear of losing a licence.
Labour plans to consult with the unions on how a new system of licensing might be made more acceptable to them.
The assessments would be continuous, based in the classroom and would involve external assessors and not just school staff. Re-licensing of teachers could take place every seven or nine years and not five as under the Balls plan.
A newly strengthened Royal College of Teaching could be used to issue and supervise the licences.
There have been calls from across the political spectrum for the creation of a new professional body like the General Medical Council which would be separate from both the unions and the government.
A Conservative Party spokesman said the government had already improved training and given head teachers more power.
"Fixing the schools system so young people have the skills they need is a key part of our long-term economic plan," he said.
"That will mean better schools for our communities and a better education for young people who want to get on."