JK Rowling and films dominate children's book list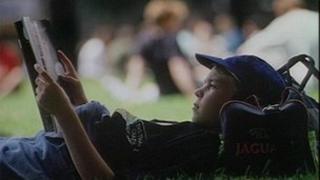 Harry Potter author JK Rowling tops a new list of children's favourite books which is dominated by titles that have been made into films.
Six of the author's books about wizardry feature in a list compiled by online education company Renaissance Learning.
The Potter series has a reading age of 11-12, but is popular among children as young as six.
Other books on the list were similarly advanced.
The study looked at the reading habits of more than 400,000 children in 2,000 primary and secondary schools in the UK, with children being asked to vote for their favourites.
The top books across all age groups were, in joint first place: Harry Potter and the Order of the Phoenix, Harry Potter and the Goblet of Fire and Catching Fire by Suzanne Collins.
Fourth place was shared by Inheritance (Christopher Paolini) and Harry Potter and the Chamber of Secrets.
Branded products
Eight books shared sixth place:
Harry Potter and the Deathly Hallows, Harry Potter and the Philosopher's Stone, Harry Potter and the Prisoner of Azkaban by JK Rowling
The Hobbit and The Fellowship of the Ring by JRR Tolkien
The Lost Hero by Rick Riordan
Divergent by Veronica Roth
The Fault in Our Stars by John Green.
Renaissance Learning calculates an estimated "reading age" for the Harry Potter books, launched in 1997, as being between 11 and 12 years old, based on the complexity of words and language and sentence length.
But a breakdown of the lists suggests the books are very popular with younger readers.
One of the Harry Potter titles is in second place on the most popular book list among pupils in Year 2 (six and seven-year-olds) and three are in the top five books picked by children in Year 3.
The Hunger Games and Catching Fire - which were both made into successful films - have an estimated reading age 11, but appear popular with children from the age of nine or 10.
Renaissance Learning says the fact that children are reading books which are quite challenging for their age group suggests films, computer games and branded products linked with books might be boosting literacy.
It is not thought the final study, when it is published later this year, will show a causal link however.
Prof Keith Topping from Dundee University, who carried out the research for the company, looked at what children of different ages were reading and how much they understood about those books.
He said: "It is wonderful what reading highly motivating books does for children.
"For the Years 1-5, children are reading favourite books at far above their chronological ability, but still maintaining a high rate of success."
He said it was not just that films might attract children to reading books - a child might also be drawn to seeing a film if they had liked a book.
Added value
"The Hobbit was high on the lists before the first film came out," he said.
"However, since the first film came out, The Hobbit has risen up the lists and become even more popular. So films certainly do give a book added value for children."
Last year the Booktrust charity asked people of all ages to vote for the book they thought all children should read before the age of 14 from a list of 100.
JK Rowling also topped that poll, followed by The Hunger Games and many others which had also been turned into films, including novels by Roald Dahl, Tolkien, CS Lewis and Philip Pullman.
Viv Bird, the chief executive of Booktrust, said: "We're not surprised to see another list topped by Harry Potter. It's been several years since the last film was released, and many of these children weren't born 16 years ago when the first Potter title was published, yet it truly endures as a modern classic.
"The common fear among parents and teachers is that books have to compete with the rest of the entertainment industry for children's attention, but we are seeing more and more of this trend for films sending young people back to books.
"It can be a reciprocal relationship and actually help turn reluctant readers around, which can only be a good thing."