'Teacher quality' Hunt's priority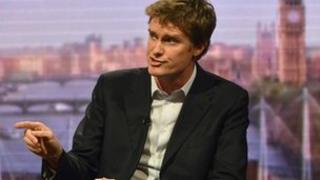 Raising the quality of teaching, rather than creating new types of school structure, is the way to raise standards, says Labour's Tristram Hunt.
The shadow education secretary said, to catch up with international rivals, teachers needed continuous training.
Last week, Mr Hunt announced plans for teachers to be regularly "re-licensed" under a future Labour government.
Mr Hunt said he wanted "world class" teachers to be the "architects of growth".
But Labour's education spokesman said that he backed the government's plan to change secondary school GCSE league tables, which will show pupils' best eight subjects.
Qualified teachers
Speaking at the North of England Education Conference, Mr Hunt set out the direction of travel for Labours plans for education.
He emphasised the central importance of the standard of teaching – quoting the argument of the OECD's education guru Andreas Schleicher's that "no education system can exceed the quality of its teachers".
With echoes of Tony Blair's "standards not structures" dictum, Mr Hunt said that the standard of teaching in the classroom was a greater priority than a "relentless focus on structural change".
He repeated his party's argument that all teachers in state schools should be qualified or in the process of becoming qualified teachers – but said that this should be the "minimum we expect".
Mr Hunt said that in the run-up to writing Labour's general election manifesto, he would consult with the teaching profession on the type of training needed to keep skills up to date.
He said this was not "bashing teachers" but "elevating" them.
Pupil behaviour
Among the ideas proposed would be clearer "career pathways" for different types of specialisms within teaching, which he said had been used in Singapore's high-performing school system.
This could include teachers who specialised in improving pupil behaviour.
Mr Hunt said that teaching also needed to keep up with changing technology.
He said that digital technology and instant access to information would mean that employers would need different skills.
Prof Robert Coe, from Durham University's Centre for Evaluation and Monitoring, said he backed Mr Hunt's "quality, not structures" message.
"In terms of educational outcomes, the best research is pretty clear: what type of school, how it is governed, funded and managed makes very little difference.
"What really matters is what happens in classrooms, and the quality of teaching is crucial. The difference between the best and worst here is big, so it should be a rich area for educational policy to address."
Top graduates
A Conservative Party spokesman said the party would look at any proposals which would improve the quality of teaching.
"We have already taken action by allowing heads to remove teachers from the classroom in a term, as opposed to a year previously, and scrapping the three-hour limit on classroom observations.
"We are improving teacher training, expanding Teach First and allowing heads to pay good teachers more. Thanks to our reforms, a record proportion of top graduates are entering the profession."
The proposal for continuing professional development for teachers and their regular "revalidation" was welcomed by Christine Blower, general secretary of the National Union of Teachers.
But she said: "A critical aspect is of course that the profession should be in control of continuous professional development."
Chris Keates, general secretary of the Nasuwt teachers' union, also welcomed the proposal for more training.
"Teachers are being starved of access to continuous professional development," she said.
"Teachers have a commitment to continuing professional development, but they do not have a contractual entitlement to receive it."