University staff plan walkouts in pay row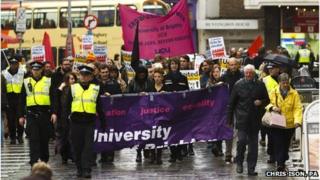 Students at UK universities face major disruption to their studies as university staff stage a fresh series of strikes in a continuing pay row.
The University and College Union (UCU) has said it plans a wave of two-hour strikes aimed at disrupting teaching.
The union said it would also consider a boycott of exam marking, potentially leaving students without the final marks they need to get a degree.
Employers said they were disappointed by the move, which targeted students.
Pay offer
The union, along with a number of others, took part in two one-day walkouts last term.
They are protesting over a 1% pay rise offered to university staff.
UCU says the pay offer means their members have faced a 13% pay cut in real terms since October 2008.
The unions said tens of thousands of lectures, seminars, tutorials and practicals would be at risk of cancellation.
The first walkout will take place on Thursday 23 January between 1100 and 1300, followed by further strikes on Tuesday 28 January between 1400 and 1600 and on Monday 10 February between 0900 and 1100
UCU general secretary, Sally Hunt, said: "Despite another embarrassing round of embarrassing revelations about the very handsome pay rises those at the very top have enjoyed recently, universities are still refusing to improve a miserly 1% pay offer and are still oblivious to the hypocrisy of their actions.
"Any kind of disruption is always a last resort but, after five years of pay suppression and members 13% worse off in real terms, we have little option but to escalate our action."
'Disappointment'
A spokesman for the University and Colleges Employers Association (UCEA) said: "This appears a cynical move to cause, in the union's own terms 'maximum disruption' while 'minimising cost to members'.
"Institutions will do their very best to protect students but this industrial action is designed to damage the student experience. However, the overwhelming majority of staff realise that the UCU's demands for higher pay increases are neither affordable nor sustainable.
"The pay increases implemented last month and backdated to August 2013 actually totalled around 3% in most institutions; with the 1% for all on top of 3% incremental increases for many, plus merit awards."
Toni Pearce, president of the National Union of Students (NUS) said: "It's clear that the continuing pay dispute, over the measly pay offer to staff made by vice chancellors who are receiving pay raises of 8%, now risks causing significant disruption.
"Students want a speedy resolution. We need to see the employers and unions getting round the table and negotiating a fair and sustainable pay settlement."