Ofsted boss: Pay 'good neighbours' to help problem families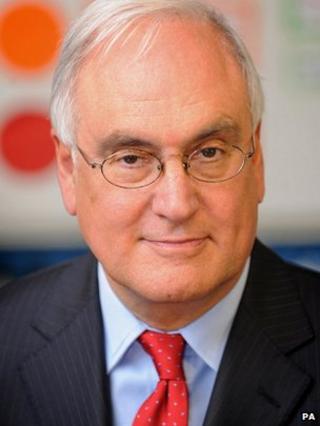 Responsible neighbours should be offered financial incentives to help troubled families in their area, the head of Ofsted has suggested.
Sir Michael Wilshaw said "good people" in the community could make sure vulnerable children went to school.
But he also said such families needed to take responsibility for the way their children behaved.
He urged children's professionals to send a "tough message" to those who failed to raise children properly.
Sir Michael, who inspects children's services, as well as schools, in England, was appearing before a committee of MPs on Wednesday to answer questions about last year's social care annual report.
'Good people'
He told the education select committee: "In my experience, in the most difficult communities, there are always going to be good people who want to help.
"How do you incentivise good citizens, good people, good family members to engage with the worst, the most difficult members of society?
"How do you financially incentivise those people to get up in the morning, knock on the neighbour's door and say 'your children are not up yet, they've not had their breakfast yet. Why aren't you taking them to school?'"
Sir Michael said the issue of poor parenting was of concern to the whole of society.
"As an ex-head teacher, I saw the result of children being brought up badly by their parents, so society's got to worry about what is happening in families, and families in particular parts of the country."
And he said while children's services had a role to play in supporting them, the families themselves had to take responsibility.
Tough messages
"I think messages have got to go out, not just to families about the importance of raising children properly and giving them very clear boundaries.
"But I think the message has also got to go out to children's services, and particularly the social workers on the ground, about how they interact with those families...
"And that what they've got to do is... to send out some tough messages to families that are not looking after their families properly.
"These families need to know that they can't go on treating their children like this, they can't go on behaving in this manner, and that they have got to hit the target being set by social workers.
"Where we see good practice, we see social workers supported by experienced people, going into these families and giving out those tough messages."
Sir Michael said when he was a head teacher he tackled poor parenting head-on.
"I used to tell parents that they were behaving badly and that they were bad parents," he said.
"It didn't often go down extremely well, but nevertheless that was my responsibility, and it's the responsibility of social workers, as I say."