Pupils from poor families 'still at disadvantage'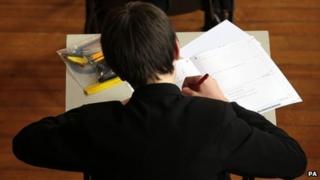 Children from poor backgrounds must do even better in key academic subjects to get on in life, researchers have said.
Standards are rising, but the chances of poor pupils becoming high achievers has remained low, the Institute of Education academics have found.
In particular youngsters needed more guidance about requirements of elite universities and firms, the study said.
The academics believed it was "a good sign" the relative attainment gap among 11-year-olds was closing.
Standards had improved for families from deprived backgrounds faster than for the most affluent, they said.
But they also found deprived pupils were still not achieving qualifications letting them compete at the top level of the employment market, and gaps remained at every age level.
'Consistent guidance'
The researchers from the Institute of Education and the University of Surrey analysed major national collections of information on the attainment of children born between 1958 and 2000.
They used data from the 1958 National Child Development Study; the 1970 British Cohort; the British Household Panel Survey; the National Pupil Database; the Longitudinal Study of Young People in England; and the Avon Longitudinal Study of Parents and Children.
One of the report's authors, Lindsey MacMillan, said she would like to see "more consistent guidance about what elite universities and employers are looking for".
In particular, she felt children from poorer backgrounds needed to know that high achievement in English, maths, sciences - and also history and modern languages - would be more beneficial to their future life chances than good grades in other subjects.
"I'm loath to say 'more targets please'," Dr MacMillan said, "but more emphasis on the kinds of subjects pupils take would be helpful."
She added: "The fact that the relative gap is closing is, I think, a good sign; the unanswered question is whether that can be carried on at 16, 18 and 21."
'Fundamental skills'
A Department for Education spokesperson said: "Figures out this week show our English Baccalaureate has led to an increase of almost 60% in the number of children studying the core subjects most valued by employers and universities - subjects like physics, chemistry, history and languages."
The English Baccalaureate is a measure of pupils achieving A* to C grades in a range of subjects classed by the government as the core of a good education - English, maths, two science subjects, a language, and either history or geography.
"We have also introduced the pupil premium - worth £2.5bn a year from this April - and turned around more failing schools than ever before," the spokesperson added, referring to the additional money paid to schools in England with deprived children.
"This is part of our long-term plan to ensure all young people leave school with the skills they need for a secure and prosperous future."
The Association of School and College Leaders said there was only so much schools could do about social mobility.
Its general secretary, Brian Lightman, said the government also needed to act to reduce wealth inequality in society at large.
"Schools cannot crack this alone," he said.
"It is important that students do well in the core subjects, but they also need the fundamental employment skills that businesses are looking for and that prepare them for a 21st Century workplace."