Poppy seeds for schools in World War One centenary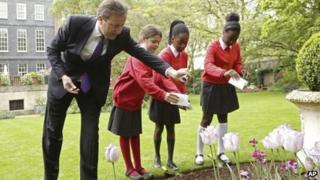 Poppy seeds have been sent to every school in the UK as part of the commemorations for the centenary of the outbreak of World War One.
The Royal British Legion project was launched in London by the Prime Minister David Cameron.
Mr Cameron said it would help pupils to "make a connection with the events that changed the world a century ago".
Charles Byrne, of the Royal British Legion, said it "passes the torch of remembrance on to a new generation".
The intention is that schools will plant poppies in their gardens and grounds, as a symbol of WW1.
Mr Cameron launched the project in the garden of No 10 Downing Street, with pupils from Cathedral School in Southwark, south London.
Battlefield visit
Alongside the seeds is a booklet explaining how poppies became associated with remembrance of the 1914-1918 war.
There are also commemorative tree-planting projects. The Woodland Trust is inviting schools to apply to plant trees as a way of marking the centenary.
The government is also funding every state school to send two pupils and a teacher on a visit to WW1 battlefields, over the next five years.
"The First World War centenary programme is about recognition and remembrance, focusing particularly on young people and helping them make a connection with the events that changed the world a century ago," said Mr Cameron, at the launch of the poppy project.
"This poppy initiative is a great idea that will help the next generation understand the significance of what happened during the First World War and commemorate the sacrifice of those who died."