All seats in Royal Opera House reserved for students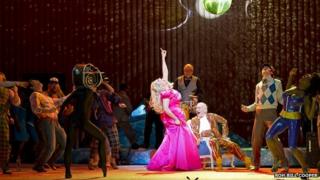 London's Royal Opera House (ROH) is planning to hand over its entire auditorium to students for the first night of its new season in September.
Tickets, priced from £1 to £25, and including seats that can otherwise cost hundreds, will go on sale next month.
The opera, Anna Nicole, tells the tale of "the brief life and sad death" of the glamour model, Anna Nicole Smith.
"We owe it to open the experience of these art forms to new audiences," said ROH chief executive Alex Beard.
The move is part of a strategy by the Royal Opera House to open up opera and ballet to more diverse audiences and performers.
'Galvanising moment'
Mr Beard said it was his ambition for the Royal Opera House to become "the most permeable, accessible and energetic lyric theatre on the planet".
"We do a tonne of stuff - but what has been missing is a galvanising moment," he told BBC News.
"We don't underestimate the importance of old audiences.
"These are art forms that have had three or four centuries of history. They speak about the universal human condition, of love, death, sex and betrayal and they are still being refreshed today."
University students registered for the ROH student standby scheme will be able to apply for the 2,000 tickets from mid-June.
Over-16s on the Roundhouse young creatives schemes in north London will also be eligible.
Anna Nicole Smith, born November 1967, died in February 2007 and was an American glamour model who became notorious for her marriage, aged 25, to an octogenarian oil magnate.
The evening will include special Anna Nicole themed activities and offers in the bars and restaurant. The Royal Opera House says it wants students "to try something new".
The opera Anna Nicole by Mark-Anthony Turnage has a libretto by Richard Thomas, best known for Jerry Springer the Opera.
It was first performed in 2011. The new production promises a few changes such as an extended pole dancing aria and a more emotional ending.