Poor pre-schoolers 'receive worse nursery provision'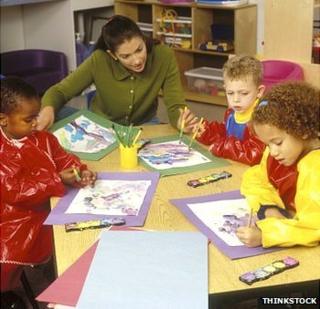 Disadvantaged pre-schoolers in England are more likely to receive poor quality nursery provision than children from wealthier homes, a study finds.
The report found private and voluntary nurseries in poorer neighbourhoods offered a lower level of education than those in more affluent areas.
The research, published by the Nuffield Foundation, said the situation further embedded poor children's disadvantage.
Nursery groups said the private and voluntary sector needed better support.
The study, by researchers at the University of Oxford, analysed data relating to 1,079 private, voluntary (non-profit-making) and independent nurseries and 169 state-maintained nursery schools in England.
The researchers used Ofsted grades and the research-validated Early Childhood Environment Rating Scales, which provide detail on specific aspects of quality and are known to predict child outcomes.
The study found the tendency for quality to be lower in disadvantaged areas only applied to private, voluntary and independent nurseries and not to maintained schools.
School-based nurseries were found to offer as good, sometimes better, provision in disadvantaged areas.
The researchers say patchy provision for three and four-year-olds will only serve to amplify the disadvantage already faced by poorer children as they start school.
"There are indications that the children most in need of good quality are the least likely to receive it, because quality is lowest among providers serving disadvantaged areas and children," the report said.
Graduate numbers
The researchers say that while all school classes are led by graduate-qualified teachers, less than half of private and voluntary nurseries and pre-schools employ a graduate and only 8% employ more than one.
The researchers found that among private and voluntary providers with a graduate on the staff, the "quality gap" between nurseries in disadvantaged and advantaged areas was much smaller than in nurseries without a graduate - for example, 3% as compared with 10% in relation to support for children's language skills.
They suggest that the enhanced training of graduates may help them to meet the greater needs of disadvantaged children, who are more at risk of language delays.
The report recommends increasing the number of graduates working in nurseries, playgroups and pre-schools.
It suggests using the new early-years pupil premium - £50m being made available by the government in 2015-16 to support children from disadvantaged backgrounds - to recruit graduate staff.
'Lose out again'
Lead author Sandra Mathers said: "This research highlights the challenges involved in ensuring that the children who most need good-quality early-years provision actually receive it.
"It is vital that we equip nurseries and pre-schools with the tools and support they need to help disadvantaged children overcome the odds and reach their full potential."
Teresa Williams, director of social research and policy at the Nuffield Foundation, said: "These findings show that socioeconomic disadvantage is mirrored in the quality of early-years provision, meaning children from poorer backgrounds lose out again.
"We would like to see more work done on the link between quality and graduate qualifications, specifically how we can best upskill the early-years workforce and ensure that more highly qualified staff are appropriately deployed."
The report backs the views of the head of Ofsted, who has suggested that children from disadvantaged backgrounds should attend school nurseries from as early an age as possible.
In a speech last month launching the education watchdog's first standalone report on early-years education, Sir Michael Wilshaw called for a greater emphasis on structured learning in school nurseries.
Funding 'imbalance'
But Neil Leitch, chief executive of the Pre-school Learning Alliance, said the private, voluntary and independent (PVI) sector supplied the vast majority of childcare places in the country and offered a nurturing and age-appropriate environment for young children.
"The solution to the issues raised in this report isn't to dismiss the huge existing network of PVI providers and push young children into schools.
"But rather, to tackle the current funding imbalance in the sector and ensure that PVI settings are properly supported in providing high-quality care and education to the children who need it the most."
Purnima Tanuku, chief executive of the National Day Nurseries Association, said: "The majority of PVI nursery provision is rated good or outstanding and is staffed by experienced staff trained in early-years development.
"We wholeheartedly welcome the report's recommendations that nurseries should increase the number of graduates they employ and it is critical they get the support to do this.
"We know the long-term benefits to having high-quality staff working directly with children, but the biggest barrier nurseries face in employing graduate staff is cost."