New Technical Awards for teenagers in vocational shake-up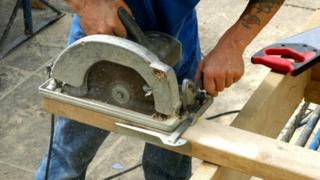 New practical courses in subjects such as electronics and textiles will be available next year as part of a shake-up of vocational education in England.
From September 2015, 14- to 16-year-olds would be able to take Technical Awards alongside GCSEs, ministers said.
The new qualifications would be on a par with new GCSEs and would prepare young people for the world of work, Skills Minister Matthew Hancock said.
The move follows concern from employers that youngsters lacked skills for work.
The Department for Education (DfE) said the new Technical Awards would give young people real-life practical and technical skills that could be the "starting point for their future careers".
Teenagers will be able to study up to three of the awards alongside a minimum of five core GCSEs, including English and maths.
The DfE said in the past, practical qualifications had focused too heavily on "abstract theory".
For example, in woodwork, teenagers will now measure, cut, joint and finish their own furniture, whereas previously they might have just studied the design of a piece of furniture.
In textiles, youngsters would now design and make an outfit using a range of techniques, and in electronics they could use motion-detectors, batteries and other equipment to wire movement-controlled lighting, rather than analysing a light to see how it worked, the DfE said.
Practical skills
Skills and Enterprise Minister Matthew Hancock said: "Previously, young people were encouraged to study meaningless qualifications completely unrelated to their lives or the rapidly changing world of work.
"Technical Awards will give students the opportunity to learn practical skills, which are valued by employers, from the age of 14, and are recognised in the school-performance tables.
"They can be studied alongside core GCSEs and offer a crucial first step towards securing a high quality vocational education."
Deborah Ribchester, curriculum manager at the Association of Colleges, said: "These rigorous new technical awards, with the stronger emphasis on hands-on practical skills and increased employer involvement, can only help raise the profile and status of the vocational education route.
"This is to be welcomed alongside the minister's stated aim of ensuring both young people and their future employers are clear about the content, relevance and value of these qualifications."
Tech Bacc
The government has already announced plans to introduce new Tech-levels for sixth-formers, which are equivalent to an A-level course.
The Tech-levels count towards the new Technical Baccalaureate or Tech Bacc.
The Tech Bacc is a league-table measure that recognises 16- to 19-year-olds in England who complete a programme of three separate courses, including:
a Tech-level
a maths course
an extended project - an existing qualification designed to test skills such as writing, communication and research
Under earlier government changes, many practical qualifications no longer count towards school and college league tables.
The move followed concerns that schools were encouraging teenagers to take low-quality qualifications that would boost the school's league-table position, but did not give pupils the right skills or help their future prospects.