Maths changes 'may put students off', warns report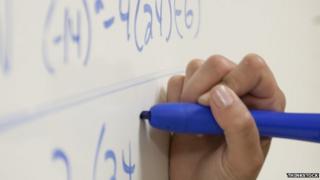 Changes to GCSE and A-level maths may put students off the subject, warns a report.
The changes may undermine the government's goal that most students study maths to the age of 18, says a Nuffield Foundation report.
They include a more rigorous GCSE, end-of-course exams for GCSEs and A-levels and separating AS-levels from A-levels.
The government said the plans "remove the endless treadmill of testing" and let young people study maths in depth.
The report cites earlier research showing the UK has lower rates of students studying maths after 16 than three-quarters of comparable developed nations.
'Less flexible'
Just under a quarter of students in Scotland take maths after 16 - but in England, Wales and Northern Ireland, the figures are 13%, 11% and 15%.
The report says government changes, aimed at improving the position, may backfire.
It argues the "modular" structure of A-levels and the fact AS-levels count towards the full A2 qualification have helped increase the numbers of students taking maths as they can "build qualifications and their own confidence module by module".
Under the government's exam changes, modular exams will be replaced by exams at the end of the course.
"There is a danger that a move to a less flexible model may result in a decrease in student numbers," warn the authors.
"For example, students who are not confident about committing to A-level mathematics or further mathematics from the start may choose not to embark on the qualifications."
They warn of a "bottleneck" in the supply of students with the grades and aptitude for A-level maths, as students with top maths GCSE grades are already choosing the subject for A-level - but those with a B at GCSE maths are unlikely to do well at A-level, so they are put off choosing it.
The report warns that from next year a tougher new GCSE maths course may make achieving top grades harder, with a knock-on effect on the numbers taking A-level maths.
The report welcomes the government's planned "core maths" qualification as an alternative to AS and A-level maths for those with at last a C at GCSE.
However, it says the qualification will need backing from universities and employers to succeed.
It says the strongest incentive for students to continue with maths is that they need it for higher education and employment and wants universities to be "much more explicit" about their mathematical requirements.
Report author Josh Hillman said: "There is overwhelming evidence that large swathes of students do not have the necessary quantitative skills for higher education and employment.
'Alternative qualification'
"But that won't change until the higher education sector as a whole backs the range of post-16 maths qualifications and moves towards making them a requirement for undergraduate admissions. Whether universities will value the new core maths qualification if it is not an AS-level remains to be seen."
A Department for Education representative responded: "We are pleased the Nuffield Foundation has welcomed the new 'core maths' qualification and recognised the importance of offering young people an alternative to AS and A-levels.
"Core maths will give more than 200,000 students another option to keep studying maths, using it to solve real life problems and learn the skills that will lead to the highest earnings and the best protection against unemployment.
"By making maths GCSEs and A-levels more demanding and removing the endless treadmill of testing, we are ensuring young people can study the subject in more depth, gain greater understanding and be confident that they are learning the skills required by employers and universities alike."