Shanghai 'copied England's inspection system'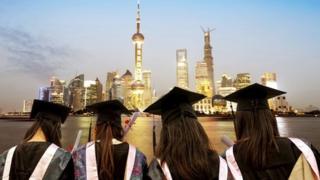 Shanghai, the highest performing education system in international tests, copied ideas for an inspection system from England, according to an education leader from the Chinese city.
The trading of educational ideas was examined at the inaugural Education Reform Summit in London.
The conference also heard that in the Spanish capital Madrid over a third of schools are run like academies.
"It's a constant process of dialogue," said Education Secretary Michael Gove.
The summit, organised by the Education Foundation and the Department for Education, aimed to put efforts to improve education systems into an international context.
It brought together education ministers and experts from countries including the United States, China, Poland, the Netherlands, Spain and Portugal.
Something borrowed
Shangchang Tang, founder of Shanghai High School, said there was much international attention on Shanghai's education system, following its emergence as the top performer in the OECD's Pisa tests.
Maths teachers from Shanghai are to be brought to England to help raise standards.
Mr Tang said one factor in Shanghai's success had been a deliberate process of borrowing ideas from other countries, such as England's system of inspection and accountability or looking at qualifications from around the world.
Mr Gove said this was a two-way process.
Poland has been one of the fastest-improving education systems. It has developed a system in which pupils take core academic subjects up to the age of 16.
Mr Gove said Poland's changes had "informed our approach to the English baccalaureate and our new accountability system for GCSEs".
Improving education was an "economic imperative for every developed nation.
"Because the twin forces of economic globalisation and technological advance are transforming the world we live in. Our jobs, our lives, our economies and our societies are going through dramatic and irreversible change," England's education secretary told his international audience.
He warned job opportunities were shrinking for anyone leaving school with "no skills or low skills".
He said it was a "personal crusade" to narrow the attainment gap between poorer and richer pupils and that "our status quo has simply not been good enough".
He highlighted the importance of teacher-driven improvement - but the event fell on a day when one of the biggest teachers' unions in England was staging a strike.
'Quack theories'
Mr Gove told the conference there was an unprecedented amount of data to inform decisions, such as from the Pisa tests.
A more systematic understanding of what worked should should mean the end of any "faddish adherence to quack theories", he added.
Mr Gove said the academy programme in England, with an emphasis on school autonomy, was an important contribution to international education reform.
Nuno Crato, Portugal's education minister said when he took office the system had been so centralised that he received letters from schools asking for permission to change their lunch breaks.
He said reforms in Portugal have attempted to release schools from a mindset where everything depended on centralised decision-making.
He wanted schools to move away from "vague concepts" and to address pupils' need for "knowledge and skills".
Lucia Figar, a Spanish regional education minister, said schools in Madrid were outperforming schools in other parts of Spain. She attributed this to a willingness to innovate.
More than a third of schools were now operating as autonomous academy-style schools and there had been a policy of closing schools which were underperforming.
Another innovation had been the growth of dual-language schools where pupils learned in English as well as Spanish.
She said the changes had been met with strong resistance from teachers' unions.
A former education minister from Poland, Maciej Jakubowski, said the end of the Communist era provided an opening for major reform.
There was an appetite for change and "teachers could see opportunities for themselves".
Poland has become one of the strongest performers in Pisa tests. Mr Jakubowski said an important aspect of this was the ability to replicate progress across schools and to narrow the gaps between strongest and weakest.