How important is education secretary's core subjects plan?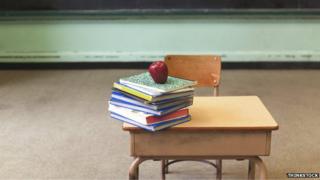 So how big is the first policy pronouncement made by new Education Secretary Nicky Morgan?
It's hard to tell.
She told James Kirkup, of the Sunday Telegraph, that, under Conservative Party plans, schools in England could be obliged to enter all their pupils into a core group of traditional subjects: English, maths, a foreign language, science and history or geography.
She proposed that Ofsted, the school inspectors, should refuse "good" or "outstanding" ratings to schools that failed to enter pupils into those subjects at GCSE (a basket of subjects that is measured in the league tables under the inexplicable title of "the English baccalaureate").
The education secretary herself said: "In selective schools or schools with a low proportion of free school meals, that is what they are already doing.
"But that is not always happening in less advantaged areas."
Lost in translation?
I wonder if some nuances got lost in translation.
Using the National Pupil Database from 2013, we can check exactly how many pupils are entered into each GCSE.
Of the 3,059 mainstream secondaries in the NPD, only two entered all of their pupils into those subjects.
Only 33 entered more than 95% of their pupils.
So she is actually recommending an extremely rare practice.
And if that were to be the new rule set, it would mean that the London "superschools" that have set the pace for reform - like Mossbourne Community Academy (80%) and Burlington Danes Academy (65%) - would be clobbered by the inspectorate.
New trends
Perhaps, in truth, Ms Morgan meant that all schools should be expected to enter some of their pupils into that basket of subjects.
The principle would be that all schools should make the topics available to them.
So how many schools would that affect?
Based on 2013 data, only 69 secondary schools would be caught by that kind of rule.
And that might be too high a number, because they may offer the subjects, but have no children take them up in that particular year.
So this is either a policy that could be very important or very unimportant.
Where exactly it ends up will depend on the fine detail of how the rules are written.
What we know is that ministers want a presumption that pupils will take a traditional core of subjects.
But however it turns out, there's are big issue that this idea speaks to.
For more than two decades, we have been giving schools ever more independence.
Yet, every now and then, ministers get worried by a new trend in schools.
So they try to grab levers so they can steer the ship in the direction that they want.
Stuff of manifestos
This proposal suggests continued uneasiness on curriculum freedom.
Head teachers have used that autonomy to do things ministers did not want.
We knew that; new league table measures will incentivise teachers to offer a traditional core, but it won't be enough, this proposal implies.
And, since 2010, half of secondaries have become academies (and therefore may ignore the national curriculum).
So - in addition to those league tables - Ofsted is the only lever that ministers have left for steering the system one way or another at short notice.
That's why, after decades of talk about autonomy, the detail of what the school inspectorate should actually look for when it goes into a school is becoming the stuff of party manifestos.