Fewer teenagers got five good GCSEs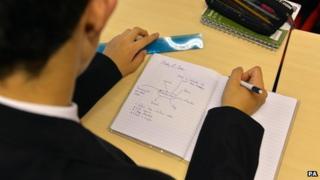 Fewer pupils got five good GCSEs, including English and maths, this year than last year, amid major changes to the exams system.
Some 52.6% of pupils in England reached the government's new five A*-C benchmark, official statistics show.
When a bigger range of vocational exams and all GCSE entries were included in this measure of school accountability, 59.2% of pupils made the grade in 2013.
Officials said major reforms made it hard to compare results year on year.
These include a move to cut thousands of vocational qualifications from school performance measures and the decision that only a student's first attempt at a GCSE will count in the league tables.
This last move was aimed at reducing the number of pupils repeatedly taking GCSEs when they were not ready.
'High quality'
The data also shows the percentage of pupils who were entered for all English Baccalaureate (E-Bacc) subjects. This was 36.1% for all pupils.
The English Baccalaureate is made up of English, mathematics, history or geography, the sciences and a language.
The figures also show the number of entries for non-E-Bacc qualifications has almost halved.
Education Secretary Nicky Morgan said: "I am delighted to see more and more young people taking the high quality subjects that will properly prepare them for life in modern Britain.
"With record numbers taking science at GCSE and maths now the most popular subject at A level our plan for education has finally reversed the decline in key academic subjects."
General secretary of the Association of School and College Leaders Brian Lightman said it was the government's changes to the exam system that had led to the drop in results this year.
"It is not a reflection of the quality of teaching nor the amount of effort and hard work put in by students.
"Our qualifications system must be trusted. This year the opposite is happening."