Fewer children bullied than a decade ago, suggests research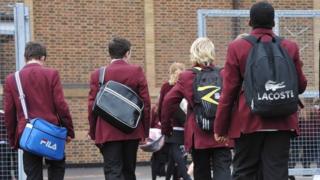 Anti-bullying policies appear to be having an effect, with thousands fewer pupils being bullied in England than 10 years ago, according to research.
The number of 13-year-olds being bulled fell five percentage points between 2004 and 2013, the government and University of London study suggests.
The research, published during anti-bullying week, compared 15,700 13-year-olds in 2004 with 13,100 in 2013.
But vulnerable and disabled children are still picked on, say campaigners.
Lauren Seager-Smith, national co-ordinator of the Anti-Bullying Alliance, welcomed the findings but added that disabled children and those with special educational needs "are significantly more likely to be bullied".
Victims
The study draws on data from two long-term studies of young people in England run by the Department for Education and London University's Institute of Education.
In 2004, 45% of the pupils interviewed said they had been bullied in the past year.
By 2013 this had fallen to 40%.
If the figures were replicated nationally, this would amount to 30,000 fewer pupils being bulled last year than 10 years ago.
There was a similar fall in the numbers of pupils reporting that they had been victims of violent bullying - down from 18% to 13% in the same period.
Those saying they were bullied every day fell from 10% to 8% - suggesting a fall of 10,000 nationally.
The Education Secretary Nicky Morgan urged schools, charities and parents to capitalise on these improvements.
"No child should have to suffer the fear and victimisation of bullying," she said.
"Today's figures show that our teachers, parents and charities have made great strides in reducing bullying, which I know is the number one concern of many parents.
"But even one child bullied is one too many, so I am calling on all teachers, charities and parents to continue this moral mission and reduce bullying further."
Bullying words
This year's Anti-Bullying Week is focusing on the experiences of disabled and special needs children.
Ms Seager-Smith said the campaign was particularly concerned about the prevalence of "discriminatory and hurtful language that is perpetuating the bullying of these vulnerable children in our schools".
Teachers interviewed for the campaign suggested "children are using bullying words like 'spaz', 'spastic', 'retard' or 'mong' in general conversation, and worse still, to deliberately insult each other and their disabled peers or those with special educational needs".
A separate poll of 1,000 adults found 44% used the words in casual conversation, often as part of "banter".
"We must challenge the normalisation of this language and recognise the impact it is having on the attitudes of generations to come," said Ms Seager-Smith.
The government says it has set aside £4m in grants to combat bullying in schools, which includes £1.5m specifically to combat the bullying of special needs children.
A separate £2m has been set aside to address homophobic bullying.