Bring back overseas exchange trips, schools urged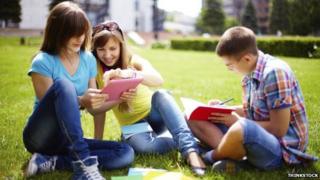 Overseas exchange trips, once a rite of passage for teenagers, are now offered by a minority of schools, suggests research.
As late as the 1990s the "vast majority" of pupils were offered the chance to stay with a foreign pen-pal, says the British Council.
Now only 39% of 450 schools surveyed in Britain offer this type of exchange.
Reviving these trips is vital to "tackle a national language crisis", argues the organisation.
It has launched a campaign urging schools to bring back the trips, saying they not only boost language learning but give pupils a taste of life abroad.
Private schools are more than twice as likely to offer international exchanges that include a stay in a pen-pal's home, suggests the council's poll of schools in England, Wales and Scotland.
'Safety concerns'
Some 77% of the private schools that responded said they offered exchanges including a home-stay, compared with 30% of state schools.
Overall about a quarter of the schools (27%) said they ran other sorts of international exchange trips, where students stayed in hotels.
In the schools that did not offer exchanges, some 26% of the staff who responded said they had previously been available.
Schools cited parents worries about safety and difficulties in taking students out of school during term time as key factors in the decision to axe the trips.
The British Council campaign includes overseas exchange advice for schools on issues such as child protection.
'Inspirational'
The council's school adviser, Vicky Gough says her first school exchange trip was "a real 'light bulb' moment" that got her "excited about learning a language and understanding another culture".
"It's a shame that these exchanges have fallen victim to things like safety concerns, which can actually be easily remedied with the right steps.
"As we seek to tackle a national language crisis and a lack of international skills among young people entering the world of work, reviving school exchanges is vital - and we'll do everything we can to help schools make this possible."
Head teacher Ian Bauckham, of the Association of School and College Leaders, said his first experiences of overseas residential visits as a language student "were life changing and inspirational".
"Nothing, even extensive internet exposure in our networked age, can replace the experience of being immersed for a short period in a real foreign language environment. It is the opportunity to make rapid progress in language proficiency and to learn to see life through the eyes of another culture."
Russell Hobby, general secretary of the National Association of Head Teachers, said the exchanges "can be inspiring for both pupils and staff".