Universities that fail should be punished, says Which?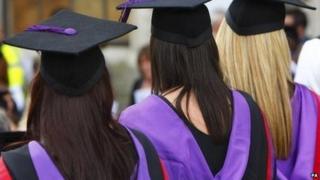 It should be easier to remove the degree-awarding powers of universities that fail to meet academic and consumer standards, a report by Which? has said.
The consumer group said tougher regulation was needed to encourage high standards and punish failings.
It said universities should provide more information to applicants and set standards on handling complaints.
It also said institutions should offer students contracts setting out details of what each course would involve.
These yardsticks would make it easier to assess the performance of universities and sanction failing ones, Which? said.
Of 1,023 UK undergraduates surveyed for the report, a third said their course was not good value for money.
Although most students were satisfied with their academic experience, three in 10 rated it as poor, raising concerns about the amount and quality of teaching and the content of their courses.
Fewer than half of the respondents (49%) described their course as "demanding" and only 45% felt seminars were generally worth attending.
The umbrella body, Universities UK, said higher student fees in England had "undoubtedly" raised expectations.
'Sneaky'
A separate poll of 4,500 students for the report found 58% of respondents had experienced content changes or fee increases after their course had started.
A fifth found an advertised module was no longer available or the content had significantly changed.
"We're already paying too much but then to put it up £500 each year is something that I feel was sneaky," said one student.
Another complained that a university course had been moved from Newport to Cardiff, which was "very likely to prevent me from being able to progress onto my third year".
The researchers said students were reluctant to complain - 17% experienced a problem in this academic year, but only half of them complained.
Of those who did complain, 58% were dissatisfied with the response and 48% felt ignored.
Recent reforms to the university sector have left its regulatory system struggling to keep pace, the report's authors said.
But with students now taking on tens of thousands of pounds of debt they need stronger regulatory protection, they said.
"Higher education is not a typical market" says the report "but this should not absolve providers of adhering to consumer protection law".
It said universities should
set standards on how complaints should be dealt with
introduce contracts setting out details of courses that could not then be changed
provide better information to applicants on subjects including precise fees, financial support and career prospects.
Universities' performance should then be measured against this information.
"In the longer term, it should be easier for degree-awarding powers to be removed from failing institutions," the report said.
Which? executive director Richard Lloyd said: "We are rightly proud of our university sector with institutions that are regarded among the best in the world.
"The next phase of reform for this market should protect that reputation and help students get the best value for money.
Unconvinced
Megan Dunn, National Union of Students vice president, said the report highlighted "the damaging effects" of imposing market principles on universities.
But she said she was unconvinced by the benefits of "contracts, small print and market information" over a return to a system with full public funding.
"The findings of this report should give the champions of high fees and high debt pause to think again about the way they have undermined higher education's status as a public good and willed on a generation of consumers.
"We need a change of course."
Anthony McClaran, chief executive of university watchdog, the Quality Assurance Agency, said that "as students take on higher levels of debt to complete their studies, the need for independent, robust quality assurance working to protect their interests becomes even greater".
Universities UK chief executive Nicola Dandridge said universities were "continuing to work hard to provide prospective students with more information about what to expect from their courses".
---